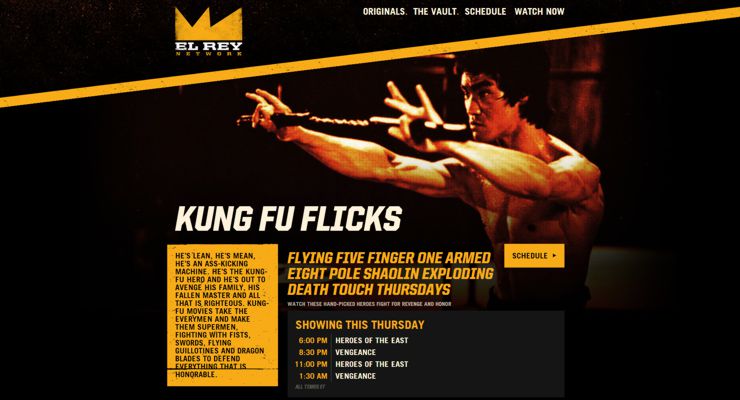 Robert Rodriguez El Rey Network pact with Hong Kong's Celestial Pictures includes titles from the Shaw Brothers library

The Hollywood Reporter ~ Hong Kong's Celestial Pictures, Lionsgate's partner in Asia, has signed a multiyear content deal with El Rey Network, the new English-language cable channel from filmmaker Robert Rodriguez, to include some legendary martial arts titles.
Under the agreement, El Rey Network will offer subscribers access to some of the jewels from the Shaw Brothers library, including The 36th Chamber of Shaolin, The Sword of Swords, Eight Diagram Pole Fighter, Executioners From Shaolin and The Flying Guillotine.
Run Run Shaw, founder of the Shaw Brothers, died in January.
All films come with English-dubbed tracks and English subtitles, and will be featured throughout the schedule and during the network's monthly Saturday kung-fu marathon, Celestial said in a statement.
"El Rey is an innovative, groundbreaking network — the perfect outlet to broadcast the cinematic action of the classic Shaw Brothers films. We are thrilled to bring these films to our diverse and loyal fans through a bold filmmaker-driven network," said Kristen Tong, head of business and legal affairs at Celestial Pictures.
Rodriguez spoke of how he had many Shaw Brothers titles on his playlist at home, long before El Rey Network was born.
"It was a hard drive that had my hit list of personal favorites, and certainly these titles were among the best in kung-fu films. They are action-packed and still have cult status among fans of the genre. We are thrilled to partner with Celestial Pictures on this collection as it is a perfect addition to our existing lineup of renegade programming," said Rodriguez.