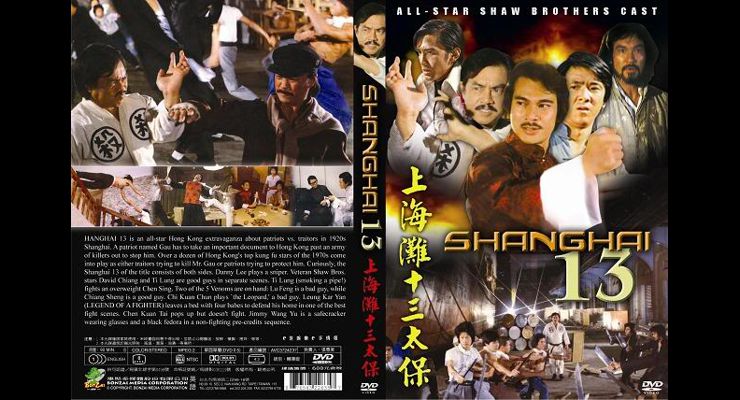 Director: Cheh Chang
Writer: Cheh Chang
Stars: Kuan Tai Chen, Sheng Chiang, Feng Lu
Shanghai 13 (1984), or The Shanghai Thirteen, is a kung fu lovers flick. The 1984 Hong Kong-Taiwanese martial arts film was written and directed by Chang Cheh (The Five Deadly Venoms and One Armed Swordsman). Shanghai 13 (1984) stars include notables Andy Lau, Jimmy Wang Yu, Ti Lung, Chen Kuan-tai, Danny Lee, Bryan Leung, David Chiang, Chiang Sheng, Chi Kuan-chun, Chan Sing, Lu Feng and others. This movie is worth watching for its fight scenes alone, one after another, from Hong Kong's best martial artists.
Plot: During the Sino-Japanese war, a Chinese patriot Mr. Gao (Chiang Ming) is unhappy with the traitorous acts of the Reorganized National Government of China and together with thief Black Hat (Jimmy Wang Yu) he steals evidence of a traitorous contract between the Chinese government and the Japanese. Gao plans to bring the contract from Shanghai to Hong Kong to share it with the people and thus exposing the traitorous acts of the Reorganized Government. Gao becomes the assassination target of the Reorganized Government's interior minister Hung Xu Wu (Seung Fung).
In an attempt to help Mr. Gao get the evidence to Hong Kong, Shanghai Tycoon Shen Gang Fu (Chen Kuan-tai) decides to send his elite group of fighters, the Shanghai 13, to protect Gao during his travels. But there are traitors among the 13 men and those moles betray Gao and Shen. While being pursued by the government hired bad guys and facing obstacles ahead, Mr. Gao has to get to Hong Kong without knowing which of the Shanghai 13 are helping and which are trying to stop him. There are traps everywhere on Mr. Gao's journey, and bloody battles must be fought one after another.