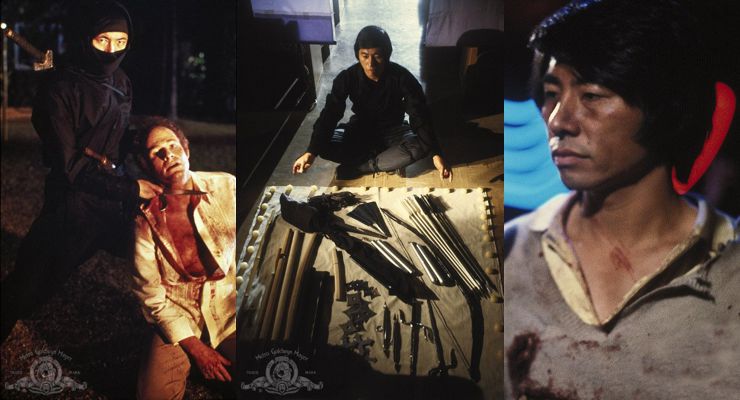 Sho Kosugi is best known as an actor and martial artist during the 1980s ninja movie craze. Sho Kosugi was a skilled martial artist and weapons performer and these skills were often highlighted in his movie roles.
Shô Kosugi grew up as the youngest child of a Tokyo fisherman. He began studying karate at a local dojo at the age of five. Sho also studied judo and kendo, and by his 18th birthday Shô had achieved the status of All Japan Karate Champion. Sho was intent on entering the world of international finance, so at only 19 years old, he left Japan to study in Los Angeles, CA in the United States. There he earned a Bachelor's Degree in Economics, and kept up his martial arts studies, constantly improving his martial arts skills. Throughout the early 1970s, Sho competed in hundred's of martial arts tournaments and demonstrations including winning the L.A. Open in 1972, 1973 and 1974. During this time he met a young Chinese woman named Shook, who eventually became his wife. He also was able to play a few small part's in a minor Taiwanese film titled "The Killers", and then in a Korean production, that was being shot in Los Angeles called "The Stranger From Korea".
Sho's big break came in 1981 when karate legend Mike Stone pitched a screenplay under the title of Dance of Death to Cannon Films. Cannon at the time, was a lackluster production house that had been purchased two years earlier by film producer cousins Menahem Golan and Yoram Globus. The innovative cousins quickly turned Cannon into a profitable key player in the independently produced film market by latching onto topics popular to the youth market, having rapid shooting schedules, relatively unknown casts and tight budgets. Menehem Golan once remarked that he believed it was impossible to lose money on a film shot for the US market with a budget of under $5 million!!
Cannon Films backed Mike Stone's screenplay and the title was changed to Enter The Ninja (1981). The movie starred Franco Nero, Christopher George and Susan George. Enter The Ninja (1981) was filmed in the Phillipines in early 1981. Sho Kosugi's played the role of the evil black ninja "Hasegawa". It was Sho Kosugi's icy screen presence and martial arts skills that grabbed the attention of martial arts film fans and ignited the huge fascination with ninjitsu that consumed the martial arts for the next decade. With the financial success of their first "ninja" film, Cannon readily backed another ninja movie, with Sho as the good guy and the star of the film. Revenge of the Ninja (1983) was shot in Salt Lake City, Utah in late 1982 and featured Sho as a ninja master forced to flee from Japan to America with his only surviving son, after the rest of his family are butchered by opposing ninjas's. Sho's character gets involved in an art importing business with an American business partner, and finds out too late that his partner is also a ninja, importing drugs hidden in Sho's Japanese dolls. The second film far exceeded the first on box office takings and Sho Kosugi became the hottest star in martial arts cinema.
Based on booming ticket sales, Cannon backed another ninja movie which was filmed in late 1983 in Phoenix, Arizona. Ninja III: The Domination (1984) had a very different plot revolving around the spirit of a dead ninja possessing the body of dance instructor named Christie (played by Solid Gold dancer Lucinda Dickey). Ninja III: The Domination (1984) was a misguided attempt by Cannon to combine ninjutsu with the 80's break dancing craze while adding a bit of horror using the concept of "possession". Fans didn't seem to mind the convoluted plot and the third film in Cannon's ninja trilogy did reasonably well at the box office.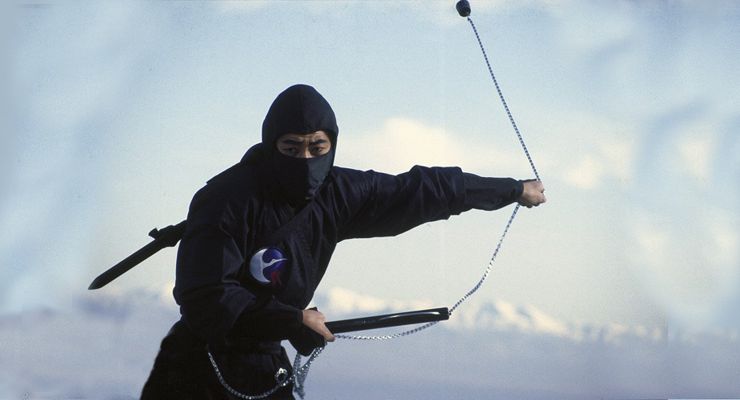 Sho Kosugi went on to star in the short lived action TV series, The Master (1984) with legendary screen bad guy Lee van Cleef. He then went on to star in several more ninja films, including taking on Mafia thugs in the bloody Pray for Death (1985), stopping terrorists as a ninja commando in Nine Deaths of the Ninja (1985) and as a ninja secret agent taking on "the Muscles from Brussels" Jean-Claude Van Damme in the military adventure Black Eagle (1988).
By 1990, American film fans had grown tired of the black clad ninja's with their shuriken's and swords, and Sho Kosugi left Hollywood going back to Japan where he became involved in numerous TV productions centered around martial arts. In 1992, Kosugi starred in his biggest budgeted movie to date, a samurai epic titled  Journey of Honor (1992), which also featured screen legends Toshirô Mifune and Christopher Lee. Since then, Sho Kosugi has remained very active in Japanese TV. He also contributed martial arts choreography to the highly popular Sony Playstation game Tenchu; Stealth Assassins. pIN the late 1990's Sho returned to Hollywood to set up the Sho Kosugi Institute to assist Asian actors wishing to break into the mainstream US film market.
Many of the ninja films featuring Sho Kosugi were low budget, cheap productions, but Sho's superb martial arts skills and his captivating screen presence assured him a unique place in the history of martial arts cinema, and the name Sho Kosugi is still synonymous with the art of ninjitsu.
Sho Kosugi – 1985 – Part 1 of 3
Sho Kosugi – 1985 – Part 2 of 3
Sho Kosugi – 1985 – Part 3 of 3