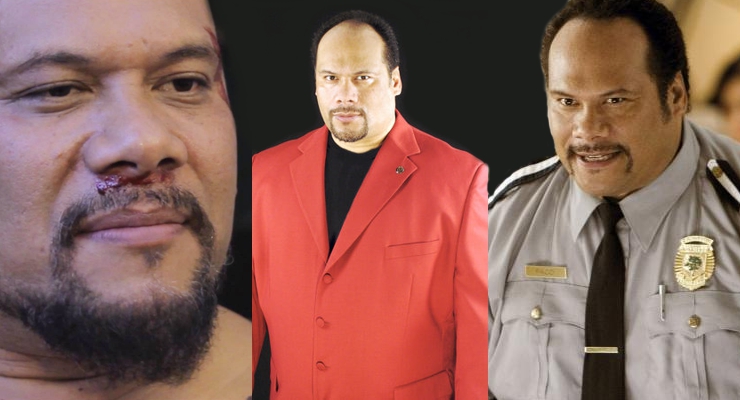 Martial artist and American actor and stuntman, Sidney Liufau, is best known for his role of Lt. Manuele Atoa in the Star Trek: Deep Space Nine episode You Are Cordially Invited.
Sidney Liufau has over 25 years working in the entertainment profession and can be seen in a wide range of roles in films including Batman Forever (1995), Blade (1998), Faster (2010), You, Me and Dupree (2006)  and in numerous television series including Smith (2006-2007), and the Hawaii 5-0 (2010) television series.
Sidney Liufau is an excellent athlete and martial artist as seen in Mortal Kombat (1995), Deadly Ransom (1998), BloodSport III, Red Skies, Blade (1998) and Street Warrior (2008). He is a 5th Degree Black Belt in Lima Lama, the Polynesian art of self defense,  and a 2nd Degree Black Belt in Kenpo Karate which he has studied, trained and taught for over 30 years. He is also a weight lifter, has played baseball, football, has wrestled and has done the shot and discus in track and field.
Sidney Liufau has been in The Lost Medallion: The Adventures of Billy Stone (2013) and To Topple an Empire (2015)
As a stunt performer Sid Liufau is known for fight choreography, 30 foot high falls, stair falls, tumbles, and precision driving.
Sid is an professional Polynesian entertainer who was once employed for Disneyland and Disney World Entertaining. His talents range from singing, playing the ukulele, Polynesian drumming and dance choreography, as well as fire twirling, fire breathing.
Sidney Liufau  received personal training from Cary Hiroyuki Tagawa. They worked together on The Ghost (2001), Planet of the Apes (2001) and Mortal Kombat (1995).
Sid Liufau donates his time and talent to helping charities. He says, "Helping the needy and helpless is the right thing to do!"