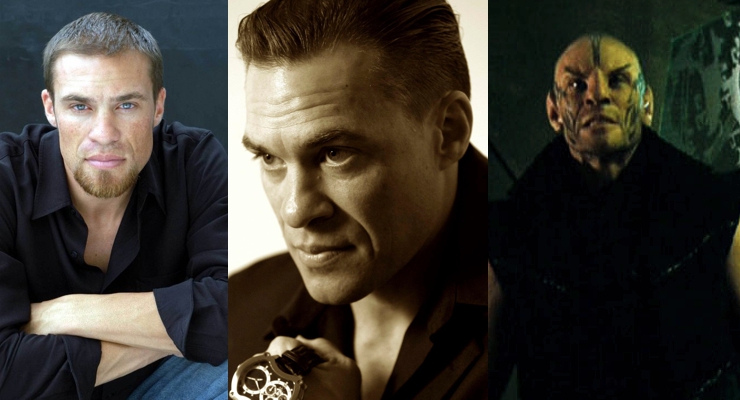 Martial artist, stunt performer and actor, Chris Torres was born on Janurary 7, 1970 in Bakersfield California. He grew up in the small towns of Mcfarland and Delano California, before moving to Bakersfield. While living in Bakersfield he worked as a model and actor for local productions while attending Bakersfield college. He made his break into the entertainment industry as a stunt performer. A martial artist all his life, Chris was hired by martial artist and stunt coordinator Pat Johnson to work on the first Mortal Kombat movie. It was during the filming of this movie that Chris realized what he wanted to do with his life. He finished college and moved to Hollywood, becoming a working stuntman. His relentless work ethic and willingness to get the shot lead him around the world working on films. This strong work ethic also lead to work as an Actor in both film and television.
Chris Torres who portrayed MACO Sergeant B. Moreno in five episodes of Star Trek: Enterprise and also his mirror universe counterpart B. Moreno. He also performed stunt parts in several television series, including Arrest & Trial (2001), The Hunted (2001), She Spies (2003), and Untold Stories of the ER (2006).
He has made numerous feature filmsincluding the science fiction film Total Force (1997), the action film Absolute Force (1997), the action comedy The Medallion (2003), Oliver Stone's drama Alexander (2004), the action film The Last Eve (2005), and Clint Eastwood's war dramas Flags of Our Fathers (2006) and Letters from Iwo Jima (2006).
Chris Torres was hired to work on a video game based on the action film Mortal Kombat (1995) where he worked with Cary-Hiroyuki Tagawa, Lloyd Kino, with stunts by Dana Hee, Sidney Liufau, Pat Romano, and Jeff Imada. He worked on another video game, vampire action BloodRayne (2005) as stunt double for lead actor Matthew Davis and performed stunts in the video game adventure Ultraviolet (2006).
Other projects include the drama Koreatown (2007), the thriller Reflections (2008), and as assistant stunt coordinator and stunt double the thriller Dark World (2008).
Chris Torres received an award for Outstanding Performance by a Stunt Ensemble in a Motion Picture – STAR TREK (Paramount Pictures) at the 16th Annual Screen Actors Guild Awards® in 2010.