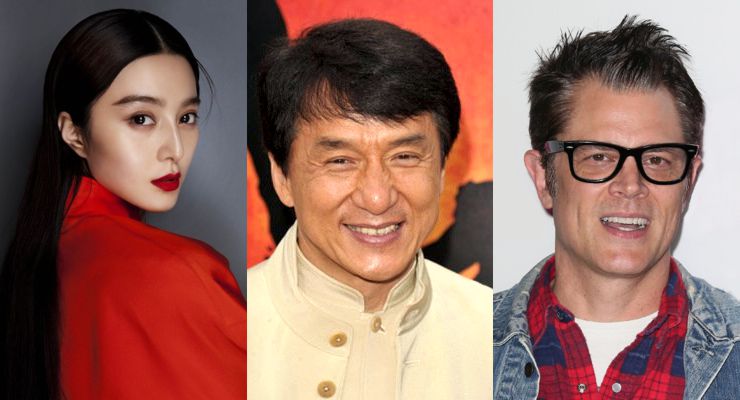 Jackie Chan's Skiptrace (2016) Cast Gets Johnny Knoxville
According to Deadline.com, Johnny Knoxville (Jackass Presents: Bad Grandpa) will take Seann William Scott's place and star with Jackie Chan (Jackie Chan Adventures) and Bingbing Fan (X-Men: Days Of Future Past) in Skiptrace (2016). The film is directed by Renny Harlin and just begun shooting. Locations include Inner Mongolia, Beijing, Hong Kong, Macau and Guangxi in China.
Skiptrace (2016), with the style of Midnight Run (1988), was the idea of Jackie Chan, who is producing the film along with Brian Gatewood, Esmond Ren, Damien Saccani and Charlie Coker. Jackie Chan and Jay Longino, Brian Gatewood and Alessandro Tanaka, Geoff Moore and David Posamentier, and BenDavid Grabinski all worked on on the script and Rodney Rothman will be responsible to polish the finished script. Skiptrace (2016) is being co-financed and co-produced by Dasym Entertainment and Beijing-based Talent International Film. Jackie Chan and Bingbing Fan are two of China's most popular superstars and therefore Skiptrace was able to get approved as a co-production by China's State Administration of Radio, Film and Television (SARFT).
Plot:
A Hong Kong detective (Jackie Chan) teams up with an American gambler (Johnny Knoxville) to battle against a notorious Chinese criminal (Bingbing Fan).
Director:
Renny Harlin
Writers:
Jackie Chan (Story), Brian Gatewood (Screenplay), BenDavid Grabinski (Screenplay), Jay Longino (Screenplay), Rodney Rothman
Producers:
Jackie Chan, Brian Gatewood, Esmond Ren, Damien Saccani, Charlie Coker
Casting Director:
PoPing AuYeung
Cast:
Jackie Chan – Benny Black
Johnny Knoxville – Actor Role Models
Bingbing Fan – Bai