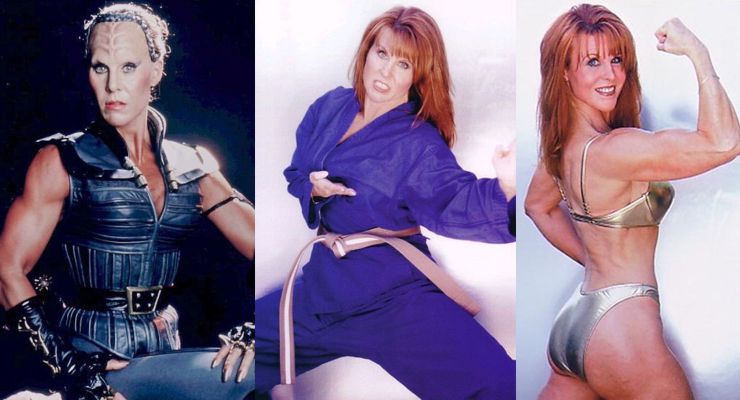 Spice Williams-Crosby (Marceline Ann Williams) was born on April 26, 1952 on a ranch in North Hollywood, California. As a young woman, under contract to 20th century-Fox records Spice Williams-Crosby toured on the road as a musician, singer, and dancer. She is currently married to Gregory Crosby — screenwriter and first-born grandson of actor and singer Bing Crosby. They have an 11 year old son.
At the age of 26 she won a seven-year battle with drug and alcohol, turning to God, nutrition and exercise, and a desire to help others turn their lives around. As she got older, Spice changed the course of her career and began studying acting for stage and film. Hearing about roles for female warriors, wrestlers, and super-heroines, she studied kickboxing and began bodybuilding and slowly creating a niche for herself in the entertainment business.
Spice has worked in such feature motion pictures as Star Trek V, Cherokee Kid, From Dusk Till Dawn, The Guyver, A Simple Plan, and For The Love Of The Game. She has also guest-starred on numerous TV shows including, Roseanne, My Two Dads, Women In Prison, Mama's Family, The Bold And The Beautiful, Step by Step, The Smart Guy, Diagnosis Murder, Buffy the Vampire Slayer and Srcubs, in what she terms as an "action actress." "In fact," says Spice, "I can't remember doing a role where I wasn't asked to perform some kind of physical feat" Since 1986, Spice has been stunt doubling Deidre Hall (Marlena) on "Days of our Lives and has also played several roles on that soap. She had the great honor of working with Clint Eastwood on "Million Dollar Baby," and then had a blast working on an independent film in with Luke Goss, called "Dead UnDead." She is very proud of co-starring in an incredible film called, "The Sensei," with Diana Lee Inosanto starring & directing, a fun film called, "Bare Knuckles, " and recently, she played a warden in a Stallone film and can be seen as a hooker on the new TV show, Brooklyn 99. Spice has produced her own show called, "I FIGHT FOR MY LIFE" about women victims and turning them into women victors!
"In fact," says Spice Williams-Crosby, "I can't remember doing a role where I wasn't asked to perform some kind of physical feat." Working in a 7UP commercial, she had to pick up the 225lb spokesperson and carry him out of a department store. Taking on many diverse roles, Spice has even played the part of an erotic dancer, in the Robert Downey Jr./Mel Gibson movie, The Singing Detective. For over 9 years she has been stunt doubling Deidre Hall (Marlena) on Days of our Lives and recently, played the jail cell bully, Veronica, who fights Marlena. In July of 2004 she worked on an independent film in Michigan called Dead End Road and she finished co-starring in an incredible film called, The Sensei, with Diana Lee Inosanto, who starred and directed the movie.
Stunts came into play almost 25 years ago when Spice was asked to double for an actress playing a judo instructor opposite Rock Hudson. Since then, Spice has doubled for the likes of Louise Fletcher, Meg Foster, Katherine Ross, Clare Carey, Deidre Hall, Cindy Pickett, Linda Kozlowski, Eileen Brennen, Becky Ann Baker, Kelly Preston and many others. Spice also Stunt Coordinates feature films, Television shows and commercials. Her stunt expertise is in fighting & "hitting the ground!" You can see her work in the controversial Miller Lite commercial where to two beautiful girls are dukin' it out over the taste of the beer!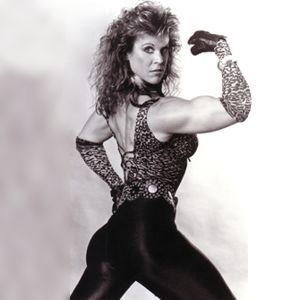 Spice has crashed cars, dove through glass windows, taken stair falls, executed 30-foot ratchets, 50-foot high falls, and hung from helicopters 300 feet above the ground, but she is best known for her ability to pick up a 300 pound man over her head in a fireman's carry and haul him away.
Gracing the cover and pages of over 100 magazines, both here and abroad, Spice has also made a name for herself as a nutritional expert with 2 Masters in Fitness Science & Holistic Nutrition and a PhD in Natural Health Medicine, writing for magazine as Ms. Fitness, Natural Muscle Magazine, and World Black Belt. She holds a 3rd DAN in Arjukanpo, 1st DAN in Doce Pares Eskrima, and is Certified Level B in Israeli KAPAP, Level C in Guatemala GIKA, and Security Defensive Tactics, Inc.. Her successful joint venture with her husband — a popular line of vegetarian food products called "Spice Of Life Meatless Meats & Jerky."
In December of 1998, she was voted into the Marquis Who's Who in America-West and one of her greatest honors was posing for a 30ft bronze statue where she represents the past, present and future female athletes of the Olympics. Spice's goal is to continue to set an example for the "women of the new millennium" — spiritually focused, mentally alert, and physically capable.
Spice is married to Gregory Crosby — screenwriter (Hacksaw Ridge) and first-born grandson of actor/singer Bing Crosby and they have a son, Luke Gregory Crosby, who also works in the entertainment industry as an actor, stuntman and writer.
Filmography
Touched (stunt coordinator) (completed)
2010 Across the Line: The Exodus of Charlie Wright (video) (stunt performer: FBI Agent)
2009 The Bleeding (stunt performer – as Spice Williams-Crosby)
2009 Angels & Demons (utility stunts)
2009 Crank: High Voltage (stunt performer)
Terminator: The Sarah Connor Chronicles (TV series) (stunt performer – 2 episodes, 2008) (stunts – 1 episode, 2009)
Born to Run (2009) (stunts – uncredited)
Samson & Delilah (2008) (stunt performer – uncredited)
Gnothi Seauton (2008) (stunt performer – uncredited)
2007 Hannah Montana (TV series) (stunt double: Vicki Lawrence – 1 episode)
I Will Always Loathe You (2007) (stunt double: Vicki Lawrence – uncredited)
2007 Curb Your Enthusiasm (TV series) (stunt performer – 1 episode)
The Ida Funkhouser Roadside Memorial (2007) (stunt performer – uncredited)
2007 Flight of the Living Dead: Outbreak on a Plane (stunts – as Spice Williams-Crosby)
2006/II Mothers and Daughters (stunt driver – as Spice Williams)
2006 Mission: Impossible III (precision driver – as Spice Williams)
2005 The Island (stunts – as Spice Williams)
2004 Dodgeball: A True Underdog Story (stunts – as Spice Williams)
2002 She Spies (TV series) (stunts: Prison Crone #1)
2002 Spider-Man (stunts – as Spice Williams)
2001 Scrubs (TV series) (stunts)
2001 Thieves (TV series) (stunts)
2001 Crossing Jordan (TV series) (stunts)
2001 Double Take (utility stunts – as Spice Williams)
2000 Wild Grizzly (TV movie) (stunts – as Spice Williams)
2000 The Stepdaughter (video) (stunts – as Spice Williams)
2000 The Expendables (TV movie) (stunt performer – as Spice Williams)
2000 The Flintstones in Viva Rock Vegas (stunts – as Spice Williams)
2000 The Huntress (TV series) (stunts – 1 episode)
Pilot (2000) (stunts – as Spice Williams)
2000 I Spike (TV series) (stunt performer)
2000 Magicians (stunts – as Spice Williams)
1999 Galaxy Quest (stunts – uncredited)
1999 Man on the Moon (stunts – as Spice Williams)
1999 Treehouse Hostage (stunt double: waitress – as Spice Williams)
1999 For Love of the Game (stunt double: Kelly Preston – as Spice Williams)
1999 The Last Man on Planet Earth (TV movie) (stunt performer: FBI Agent – uncredited)
1999 Grizzly (stunts – as Spice Williams)
1998 A Simple Plan (stunts – as Spice Williams)
1998 Scorpio One (stunts – as Spice Williams)
1998 You Lucky Dog (TV movie) (stunts – as Spice Williams)
1998 Gunshy (stunts – as Spice Williams)
1997 Acts of Betrayal (stunts – as Spice Williams)
1997 Playing God (stunt double: Claire – as Spice Williams, stunts – uncredited)
1997 Spawn (stunts – uncredited)
1997 Batman & Robin (stunts – uncredited)
1997 Liar Liar (stunts – as Spice Williams)
1997 Roseanne (TV series) (stunt coordinator – 1 episode)
A Second Chance (1997) (stunt coordinator)
1965 Days of Our Lives (TV series) (stunt double: Deidre Hall)
1996 Set It Off (stunts – as Spice Williams)
1996 High School High (stunts – as Spice Williams)
1996 7th Heaven (TV series) (stunts)
1996 Red Ribbon Blues (stunts – as Spice Williams)
1996 From Dusk Till Dawn (stunts – as Spice Williams)
1996 I'd Lie for You and That's the Truth (TV movie) (stunt double)
1995 Till the End of the Night (stunts – as Spice Williams)
1995 Body Count (stunts – as Spice Williams)
1994 T-Force (stunts – as Spice Williams)
1994 A Low Down Dirty Shame (stunts – as Spice Williams)
1994 Prehysteria! 2 (video) (stunts – as Spice Williams)
1994 Sensation (stunts – as Spice Williams)
1994 Natural Born Killers (stunts – uncredited)
1994 Lois & Clark: The New Adventures of Superman (TV series) (stunt double – 1 episode)
All Shook Up (1994) (stunt double)
1994 Backstreet Justice (stunts – as Spice Williams)
1993 CIA II: Target Alexa (stunts – as Spice Williams)
1993 Star Trek: Deep Space Nine (TV series) (stunt double: Megan Gallagher – 1 episode)
Invasive Procedures (1993) (stunt double: Megan Gallagher – uncredited)
1993 Blue Flame (stunts – as Spice Williams)
1992 Out on a Limb (stunts – as Spice Williams)
1992 Sleepwalkers (stunts – as Spice Williams)
1991 Guyver (stunts – as Spice Williams)
1990 Arachnophobia (stunts – as Spice Williams)
1989 Second Sight (stunts – as Spice Williams)
1989 My Two Dads (TV series) (stunt coordinator – 1 episode)
Joey Gets Pinned (1989) (stunt coordinator)
1988 Uninvited (video) (stunts – as Spice Williams)
1988 Tapeheads (stunts – as Spice Williams)
1987 The Wild Pair (stunts – as Spice Williams)
1987 Mama's Family (TV series) (stunt coordinator – 1 episode)
Mama Mania (1987) (stunt coordinator)
1987 The Lost Boys (stunts – as Spice Williams)
1987 Cyclone (stunts – as Spice Williams)
1987 The Allnighter (stunts – as Spice Williams)
1987 Number One with a Bullet (stunts – as Spice Williams)
1986 Band of the Hand (stunts – as Spice Williams)
1984 Jungle Warriors (stunts – as Spice Williams)