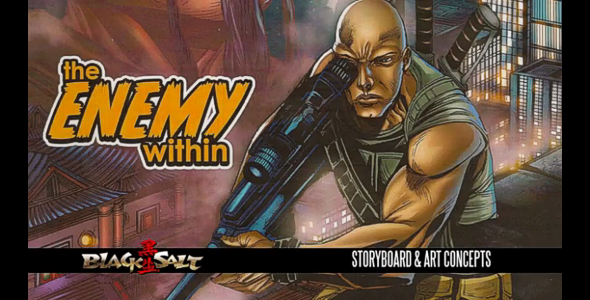 My partner, Aries Carmona, and I, Owen Ratliff, created Black Salt seven years ago because we wanted to see more minority role models on the big screen with roles that had real social value behind them. Secondly, we wanted to create a threat so great that all the races in the world would have to work together for their own survival. I then added a Shaolin Kung Fu back story because as a kid, I was always fascinated with the mystery of the Shaolin Temple. The Black Salt franchise includes, but is not limited to, the following: Black Salt collectible items, Apparel Line, Comic Books, Trading Cards, Toys, Animated Series, Video Games and Feature Film Trilogy.
Project Summary
The Company's goal is to market and promote the short film like it is a major feature film release and more important implement the Distrify distribution platform to monetize the Black Salt short film. This will be accomplished through internet marketing, submission to 60 major film festivals, video on demand distribution and setting up as many online affiliate distributors by embedding our film trailer (and shop) on as many websites, blogs, forums and social networks.
Secondly as we promote the short film the Company will simultaneously push the digital comic book series/graphic novel and the apparel line to establish the project as a bankable intellectual property. Thirdly we will produce a music Soundtrack single and video to promote and sale through the music channels.

Why We Need Your Help
We need your help for two important reasons. First the Black Salt film short will be distributed by Distrify. This new distribution model has found a way to monetized short films by turning the entire internet into a movie marketplace. This system could revolutionize the current distribution model and the major studios would no longer have control over filmmakers. We are trying to make history with the Black Salt short film by using this new distribution model.
Secondly, the reality is that it's very expensive to make a high- quality action short film. The creator, Owen Ratliff, has already raised $12,000 on his own for the short film. We are asking for your help to raise $10,000, which when combined with the amount already raised, is the minimum amount  we need to hire a great cast and production crew, rent equipment, stunt coordinator, arrange for access to locations, pay and feed everyone, put gas in the trucks, pay for parking and all post-production costs.
PRE-PRODUCTION – This has been underway for months with script, budget, storyboards, mock poster, marketing strategy and lots of other paperwork already completed. Once we are into the campaign, we will begin to book and commit to those elements, (locations, equipment, casting etc.).
PRODUCTION – The film is scheduled for three shooting days in May in Los Angeles California, but before that, we'll need at least five days of rehearsal and choreography.
POST-PRODUCTION – This will begin immediately after shooting wraps.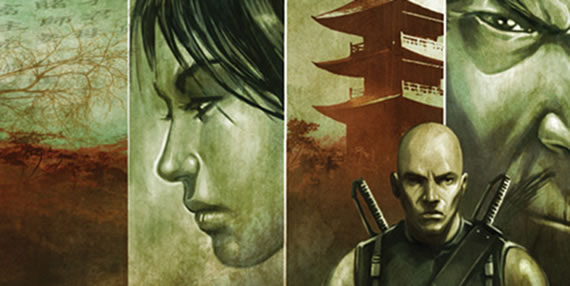 Black Salt The Movie Short Stretch Goals
If we hit the following funding levels, it will allow us to market and promote the short project like a feature film and build our brand.
$11,500 – This will revamp the website by adding the live action short film, trailer, behind the scenes video, pictures and turn into a distribution portal.
$14,500- Put together all deliverable materials, film festival submission costs and some film festival travel. We plan to submit to about 60 major festivals.
$19,500- Internet marketing (Facebook, Twitter, YouTube), press releases, magazine covers for martial arts magazines, Wikipedia page etc.
$23,500- Finish the 6th comic issue and graphic novel.
$28,500- Market and promote the comic book and graphic novel.
$38,500- Purchase inventory and market and promote apparel line.
$55,000- Music Soundtrack single, music video and promotion.
$65,000- Comic Con Convention (Booth, Promotional materials, Travel)
Props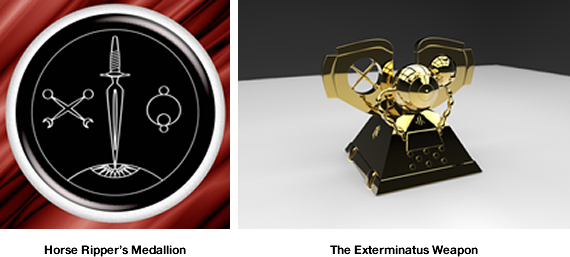 Perks & Rewards
One of our perks is to pre-sale the short film for $3 through Video on Demand (VOD) with Distrify's new distribution system.Consumer behavior and demand around the world are changing rapidly and Distrify provides a solution for the film industry to adapt to current trends. If the Black Salt film short is successful other independent filmmakers will be able to make and keep their own money from their films. Please help us try and make history by supporting this pre-order perk for $3. Our goal is 50,000 pre-orders!
Another perk favorite is for a $100 we will draw you as a Black Salt comic book character and the drawing will be sent to you digitally.
We have a number of pledges and rewards listed to the right. Please review the options and consider extending your support. Anything you give is appreciated, – as every dollar pushes us toward our goal.
Here's a visual example of these product rewards: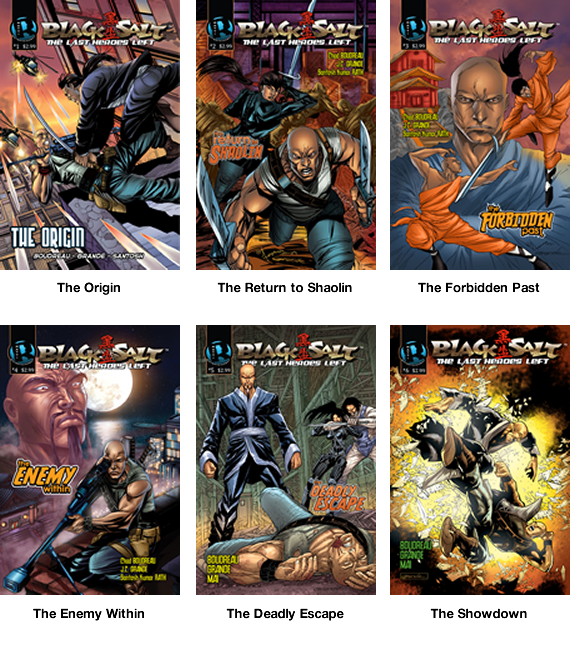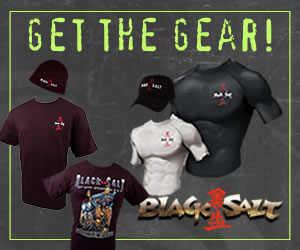 Campaign Facts For Black Salt The Movie Short
Where will the shoot for Black Salt The Movie Short be located?
Los Angeles, California
What are the tentative shoot dates Black Salt The Movie Short?
April/May 2014 (July/August 2014 release of the film).
Will you still make Black Salt The Movie Short if you don't reach the Indiegogo goal?
Of course! Your support will help us make a better movie, faster.
Will I still get my perks if the campaign goal is not reached?
Yes you will. It's one of the major reasons why we picked Indiegogo and flexible funding. So we could deliver the perks no matter what. We are well aware that you are working hard to fund those perks and we did not want to just cancel them if we are short from the goal. Worst case scenario, the shoot date will be delayed a little bit but you'll get your perks.
With the flexible funding feature, does that mean you can run away with the money and not make Black Salt The Movie Short?
Absolutely not! We are liable to deliver the perks to you. If we don't, we have to give you your money back.
Other Ways You Can Help Black Salt The Movie Short
If you can't contribute to the campaign, there are other ways you can help. You can be a huge part of our success by spreading the word to friends and family. We believe that our project will exceed expectations but we need the support of the community. You can help us by doing any of the following:
Share this page on Facebook
Giving a 'like' on our Facebook page
Follow us on Twitter
Good old traditional word-of-mouth
Use the indiegogo.com share tools to let others know and visit our pages here: