That's The Way I Like It (1998) is an irresistibly sexy comedy set to a hot soundtrack of '70s dance hits, That's The Way I Like It offers a decidedly offbeat look at the fun, fashion and flash of the disco culture! It's the hilarious story of Hock, an ordinary underachiever who discovers disco when his favorite kung fu movie is replaced by "Forever Fever," a low-budget Saturday Night Fever knockoff! In an outrageous turn of events, the movie's main character comes to life and decides to become Hock's guardian angel, teaching him all about life, love and the power of disco! Filled with the catchy music and outrageous styles of the incomparable disco era – you'll love the way this average guy rises above expectations…with the help of a little shake, shake, shake!
That's The Way I Like It (1998) stars Adrian Pang, Medaline Tan, Anna Belle Francis, Pierre Ping, Steven Lim, and Kumar. Glen Goei is both writer and director and the fight choreographer is Picasso Tan. The film is distributed by Miramax Home Entertainment.
THE STORY
It's Singapore, 1977. Hock (Adrian Pang) is going nowhere with his life while wasting his life away working at a grocery store. His parents worship his younger brother who is studying to be a doctor and label Hock as a loser. Hock escapes his dull drab life by dreaming about being Bruce Lee and going to see his films at the local theater at midnight. He also dreams of one day buying a motorcycle at a dealership that he passes by every morning while riding his bicycle to work. Then one fateful night, he finds out the Bruce Lee movies he has been faithfully going to are no longer there only to be replaced by another movie, FOREVER FEVER. Disgusted and wanting to leave, his friends talk Hock into staying to see the movie. Falling asleep in the theater, Hock finds a connection with the film and dreams of himself as the lead on the big screen strutting down the street looking and being cool.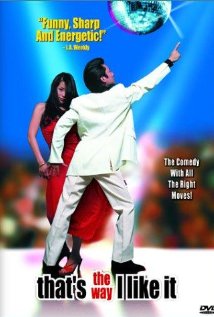 The next day, Hock asks his friend Mei (Madeline Tan) if she would take dance lessons and enter a dance contest with him, because the winner get a cash prize which is more than enough for him to buy his dream bike. Having a secret crush on him, Mei agrees. However their first night was hazardous for Hock because he feels completely uncoordinated and not in synch with the rest of the class and thinks about giving up.
The next night, Hock goes to the theater again to see FOREVER FEVER. Then the "Travolta-esque" main character (Dominic Pace) from the film leaps off from the screen and becomes his guardian angel by telling Hock to get his act together and that he ?must not think?but feel.? As things in his life begin to change, Hock goes back to the theater for more advice. The onscreen character continues to give him advice that helps Hock find his self-esteem and teaches him about life, love, and disco dancing!
First time Film Director/Writer Glenn Goei does a great job in capturing the heart and spirit of the 70?s in this is a light-hearted kung fu disco musical. The film mirrors the 1977 Travolta classic, SATURDAY NIGHT FEVER, in many ways. It?s not a remake of SNF but more of a homage with a pinch of Woody Allen's PLAY IT AGAIN SAM, and a Asian twist to it. What I find interesting is Goei extracts from Saturday Night Fever the universal themes every person deals with in life like issues on family/peer pressure, self-acceptance, and finding the courage to go down your own path in life. Goei then takes these universal issues and places it in an Asian setting.
Sure the dance numbers are not as tight as SNF and the 70's music is not performed by the original artists. But it's Adrian Pang's portrayal of the lovable hero, Hock, that is filled with lots of passion, energy, and humor in his performance that pulls you into the movie, making you overlook the flaws of the film. I found this film thoroughly enjoyable.
THE ACTION
There are only 2 small fight scenes, which were well staged and appropriate for the time the film takes place. But the most important thing here is not the action or dance choreography but the heart of the story and the acting, which is the actual heart of the film.
THE PRESENTATION
The DVD has little extras except for the theatrical trailer. The film itself is presented in its' original widescreen aspect ratio of 1.85:1. You can sense a little re-dubbing took place to maybe Americanize the dialogue so Western audiences can understand it. Which makes me curious as to what was cut or re-edited from its'original release?
I recommend this film not because of the martial arts (2 fight scene which are very quick) but because of the heart that this film has. It takes the philosophy of Bruce Lee's "Don't think, feel" into a story of fighting for what you believe in life no matter what anyone says. For all the shortcomings in production values, this film makes up for it in spades with it?s and passion filled performances and heart felt universal story of acceptance and coming into your own in life. Glenn Goei shows a lot of heart and promise in his first outing as a writer and director.