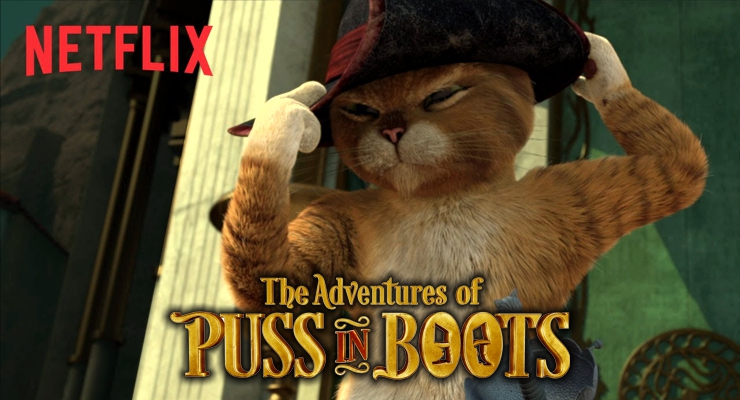 His name is legendary, his adventures and swordsmanship are renowned just don't distract him with a ball of yarn.
You would not expect Puss in Boots to be the next kung fu cat, but the character first introduced in DreamWorks Shrek 2 (2004), voiced by Antonio Banderas has his own computer-animated comedy television series, The Adventures of Puss in Boots, on Netflix. The original series debuts on January 16, 2015 when the first five 22-minute "fantasy-adventure" episodes will be released. 26 episodes are planned, and they will air throughout the 2015 in five episodes blocks. Eric Bauza  (The Book of Life, Turbo FAST) voices the new Puss in Boots along with Jayma Mays (Glee, Getting On), Laraine Newman (Saturday Night Live, Doc McStuffins), Joshua Rush (Mr. Peabody & Sherman). Throughout the series' first season, recurring and guest-starring voices will include Emmy® Award-winning actor John Leguizamo (Chef, Ice Age), Danny Trejo (Machete, From Dusk Till Dawn), Maria Bamford (The Legend of Korra, Adventure Time), John Rhys-Davies (Raiders of the Lost Ark, The Lord of the Rings Trilogy), Robbie Rist (Teenage Mutant Ninja Turtles, The Brady Bunch) and Jim Cummings (Shrek, Winnie the Pooh).
The swashbuckling cat uses his "quick-witted, nimble-footed style" of Chinese martial arts to protect the hidden city of San Lorenzo, "a mythical land that is invisible to the outside world thanks to a magical spell that protects its quirky inhabitants  not to mention its wondrous treasure. When Puss in Boots accidentally breaks the spell, he must do more than fight off an endless legion of invaders and marauders, … he must become a legend". Since he must fight week after week in Netflix series than he did in the movies, he must have his own consistent style of hand to hand combat, and his swordsmanship has got to be extraordinary.
According to Dr. Craig D Reid, in an article for Black Belt magazine, "Shrek (2001) was the first animated film to tap into the Hong Kong-stylized action genre by using the kinds of sight gags and fight scenes made popular in "fant-Asia" flicks and The Matrix (1999). DreamWorks continued to borrow Chinese film flash while making its Kung Fu Panda movies. The process entailed having cartoon fight choreographer Rodolphe Guenoden watch 1980s and '90s period-piece Hong Kong movies so martial artists could perform real kung fu for the animators."
"As a protagonist, Puss is similar to the lone swordsman and knight-errant heroes in Chinese wuxia films. He selflessly protects the weak from evildoers, but he does it with a code of ethics. In particular, Puss righteously defends the honor of ladies, remains loyal to his friends and sacrifices personal gain to save downtrodden orphans — all with humor, swagger and, ideally, a bowl of milk afterward."
The Adventures of Puss in Boots, based on a French fairy tale written by Charles Perrault, is the latest original series that DreamWorks Animation is creating for Netflix. Other original series include Turbo FAST and All Hail King Julien and their list of original series will grow to encompass a brand-new season of DreamWork's Dragons and the adventure-laden DinoTrux.