My Asian Auntie is an action comedy webseries about an old widow (Joey Min) whose niece (Stephanie Pham)  has come to visit her. The old woman accidentally finds herself on the wrong side of a local gang. What the gang doesn't know is that the old woman is also and old kungfu master, and she plans to clean up her once peaceful town with punches and kicks, while protecting her niece from the gang.
Dropouts, new episodes of My Asian Auntie come out every other Thursday on YouTube.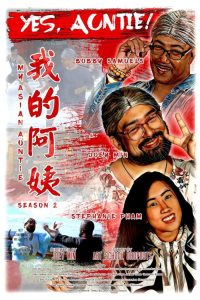 Season 2 of My Asian Auntie: Yes, Auntie offers another kung fu action packed 9-episodes filled with more kick ass fight scenes, comedic characters, and feel good vibes. In season 2 Auntie (Joey Min) and Niece (Stephanie Pham) return with crime fighting DEA head, Momma, played by legendary Hong Kong action star Bobby Samuels. While mob boss Lester (Leroy Nguyen of Rising Tigers Films) gathers his minions, Assassin Angelo (Angela Jordan) and his mole Jefferson (Robert Jefferson of R4Films), to take care of business, Momma, Auntie, and Niece join forces to take down the disco dancing mob boss and his crew to stop the rampant use of a deadly drug, and serve justice all in a "Jackie Chan" like comedic action!
ASDO premiered My Asian Auntie Season 2 at the Museum of Moving Image in Queens, New York in January 4, 2018. Find out more about the ASDO Kickstarter Campaign and join ASDO in bringing the next in the series of My Asian Auntie to YouTube.
About Art School Dropouts or ASDO
Art School Dropouts LLC is an east coast based digital media group that creates original narrative-driven content. With their skill sets on action filmmaking and comedic acting, they aim to entertain through martial arts and comedic action much like Jackie Chan or Charlie Chaplan; all the while incorporating fresh, new ideas from cultural trends of inspirations to modern day media, from comic books to anime. The blend is a refreshing look at nostalgic action for new and old fans of the action genre.
ASDO is a one stop shop for *Martial Arts *Lifestyle *Gaming* Films* Vlogs * And More!
The ASDO family includes Joey Min, Stephanie Pham, Tin Dang, Gun Cho and Patrick Banzali.
Art School Dropouts is a sponsored project of Fractured Atlas, a non-profit arts service organization. Contributions for the charitable purposes of Art School Dropouts must be made payable to "Fractured Atlas" only and are tax-deductible to the extent permitted by law.