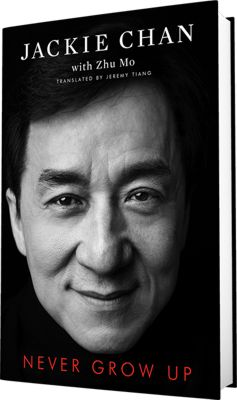 Never Grow Up By Jackie Chan came out in December 2018. It is a candid, thrilling memoir from one of the most recognizable, influential, and beloved cinematic personalities in the world, Jackie Chan.
Whether it's from Rush Hour, Shanghai Noon, The Karate Kid, or Kung Fu Panda, everyone knows Jackie Chan. Jackie is admired by generations of moviegoers for his acrobatic fighting style, comic timing, and mind-bending stunts. In 2016—after fifty-six years in the industry, over 200 films, and many broken bones—he received an honorary Academy Award for his lifetime achievement in film. But at 64 years-old, Jackie is just getting started.
Now, in Never Grow Up, the global martial arts superstar reflects on his early life, including his childhood years at the China Drama Academy (in which he was enrolled at the age of six), his big breaks (and setbacks) in Hong Kong and Hollywood, his numerous brushes with death (both on and off film sets), and his life as a husband and father (which has been, admittedly and regrettably, imperfect).
Jackie has never shied away from his mistakes. Since The Young Master in 1980, Jackie's films have ended with a bloopers reel in which he stumbles over his lines, misses his mark, or crashes to the ground in a stunt gone south. In Never Grow Up, Jackie applies the same spirit of openness to his life, proving time and time again why he's beloved the world over: he's honest, funny, kind, brave beyond reckoning and—after all this time—still young at heart.

Review
"The legendary action star gets candid telling his life story – in particular, recounting his many brushes with death both on and off screen. You'll be hard-pressed to find a Hollywood memoir with this much blood and (broken) bone. Chan's stories are too fascinating to ignore." —Entertainment Weekly
"This life story, as told in the star's impossibly colorful memoir Never Grow Up, (Gallery Books, 333 pp., 3 stars out of four), would have Charles Dickens speed-dialing Chan's film agent for movie rights—with tales of Chan's impoverished youth (from age 6, enrolled in the abusive China Drama Academy), lost loves, undying ambition fueled by his insecurity over his upbringing, true bravery and eventual glory." —USA Today
"Like Chan's best films, his memoir is engaging and entertaining." —Shelf Awareness
"The book is definitively warts (and cracked skulls and broken bones and gallons of blood) and all… but Chan also reveals a soulful, thoughtful side—just one you wouldn't want to mess with." —Kirkus Reviews
"Undeniably fun… winningly upbeat… it provides a heck of a lot of entertainment." —Publishers Weekly
"This is a worthy addition to library collections not only because of Chan's worldwide fame but also for the value of a non-Western Hollywood success story." —Booklist
"With 200-plus films, an honorary Oscar, and countless mind-blowing stunts to his credit, the martial arts master reflects here on his remarkable acting career. Chan shares how through the ups and downs, he was able to keep his grace, poise, and humility." —CBS Watch! Magazine
"A legendary life, with many fascinating stories waiting for you to discover." —Jet Li
"I was always a big fan of Jackie and working with him was like a dream come true. His innovative and creative ability was unmatched." —Chris Tucker
"Jackie reminds me to make every summer count and to think with my heart, he leads by example and lights the way." —Adrien Brody
About the Author
Jackie Chan is a martial artist, actor, film director, producer, stuntman, and philanthropist. He has appeared in over 150 films, including Rush Hour, Shanghai Noon, Kung Fu Panda, and The Foreigner.