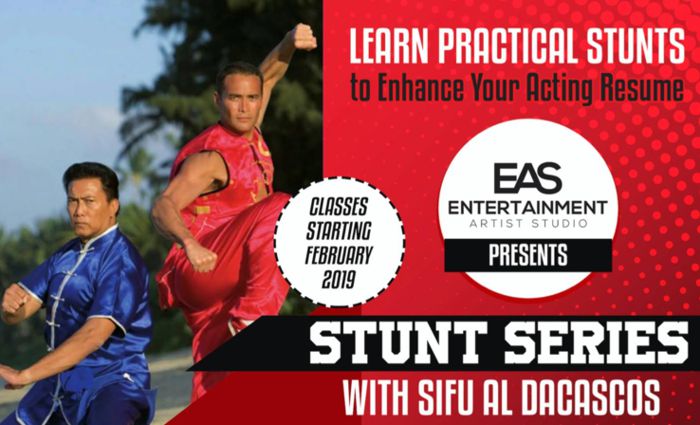 Stunt Series with Sifu Al Dacasos is presented by Entertainment Artist Studio Hawaii. The series will give you an introduction to stunts and then teach you the basics all the way up to advance stunt work.
Hosted by: Entertainment Artist Studio
What: Stunt Series with Sifu Al Dacascos
When:
101 – Intro and Basic – Saturday, February 2, 2019
102 – Beginners – Sunday, February 10, 2019
103 – Intermediate – Sunday, February 17, 2019
104 – Advanced – Sunday, February 24, 2019
Where:
Goju-Kan Hawaii Karate Do
45-317 Kenela St
Kaneohe, Hawaii
808-741-3420
SATURDAY, FEBRUARY 2, 2019
101 – Intro and Basic
Introduction to the stunt choreography world and teaching the basics in martial arts choreography. Short history of stunt personalities, terminologies, used in fight choreography, and life after stunt work.
Physical warm-ups, conditioning that is pertinent in preventing injuries, POV, blocking for various camera angles, understanding correct distance, reacting to slaps, punches, and kicks which are the prelude to blunt and edge weapons as well as projectors, rolling, and breaking the fall the correct way and recovering.
Sunday, February 10, 2019
102 – Beginners
Preview on previous class 101. Focus on developing and unlocking the hip flexor muscles which are the keys to Strength, vitality and flexibility design to prevent injuries and strengthen your overall kicking ability. Follow-up on before basic kicks, using snap, thrusting, and follow through. Step, knee, snap and stretch action for camera angles. Sport falls versus natural falls for stages cinematography. The basics seven falls and improvisations. first basic two throws. Working the Pre-vis and coordinate with the cinematographer and slater. Staging and putting together the first act of an 18 out of 72 movements partner stunt fight sequence.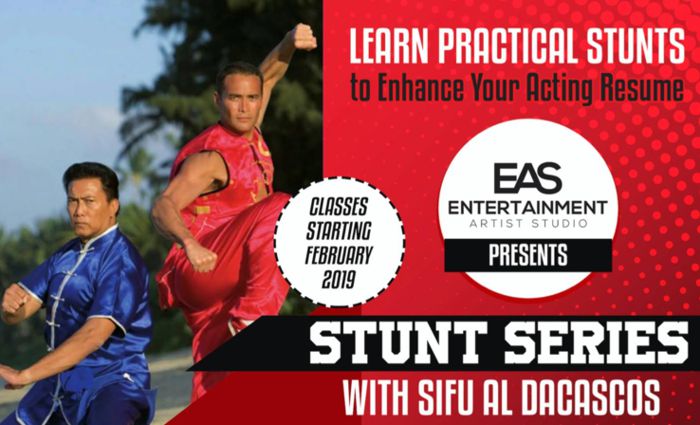 Sunday, February 17, 2019
103 – Intermediate
Review on class 102. Focus on jumping and spinning technics. Counter techniques and what works and won't work on the screen. Counters to throws, and grappling, cinematographer style. Developing hands and legs speed, and timing for the camera. Intermediate level of dealing with edge and Blunt weapons for real life, and camerawork. Next 18 movements all 72 partners stunt fight sequence.
Sunday, February 24, 2019
104 – Advanced
Review on class 103. Staging multiple fight Choreograph sequence together. IE., one against two, one against three, unarmed with and without weapons. Mixing Filipino fighting arts with MMA, improvised weapons and flow drills for smooth transition. Work the camera.
Testimonials from Past Stunt Students
---
Stunt Series 100 with Sifu Al Dacascos is Definity one of the best classes I've taken!
In an ongoing effort to improve myself as an actor, get insight into an areas which I have not previously worked and expand my marketability I signed up for this series.
Any apprehension I had from having no fighting or martial arts background was quickly dissolved when I walked through the door. From day one I learned correct falling techniques, various punches, kicks, basic weaponry and close combat move sequencing. Not just a stunting class, we learned how our movements need to look from various camera angles any why that mattered. How close quarter movements, sound, facial expressions and reactions either giving or receiving make the moment real. All while upholding the number one rule of understanding how to perform your scene in practice while off set or on set and having no one get injured. I would recommend this series to anyone, regardless of if it's their first experience into this area or if they need ongoing training. Sifu Al Dacascos and his team are masters of their craft that teach with patience and have a great knowledge of film application and choreography. – Scott Wallace
---
Mahalo to Sifu Al Dacascos and all the other instructors in Stunts Series 100, it was truly an amazing 4 course stunts workshop. I had a great time learning a large variety of stunts from fights, falls, weapon handling to even learning how to work with a slate! If you're a bit fearful or worried but have an interest in learning stunts I definitely recommend taking Stunts 100 with Sifu Al Dacascos. He strongly focuses on safety and is highly knowledgeable. Honestly I don't know where else I would ever have found the instructions and great guidance I received in this training. This training has opened many other doors and adventures for me as an actress and I'm looking forward to continue my growth in learning stunts! – Alexis Zurdo
---
"I came into the Stunt 100 Series by Sifu Al Dacascus with no prior experience in stunts or martial arts. The instructors and assistants were friendly, encouraging and extremely knowledgeable. I would highly recommend the series to anyone wanting to break into the stunt world. The training was both rigorous and extensive and I cannot wait to utilize everything I have learned. I am eagerly waiting for the next series!" – Amber Walls
---
"I want to thank Sifu Al and the rest of the group for putting together STUNT series 100. As an aspiring stunt actor coming from Maui, I've always wanted to get more involved learning and gaining more knowledge. Sifu Al has a huge background knowledge and experience in Martial Arts as well as in the film industry. It is great to know that we are learning from the best!
With very little and no experience in stunt fighting,
STUNT series 100 offered the fundamentals and key points to what is expected on film. Having that breakdown understanding in difference between street fight to film fight striking techniques, combat weapons, falls and etc… we gained mental and physical awareness.
I believe CONFIDENCE a huge aspect in the industry!
What I took out of this was the CONFIDENCE, in my performance on film and out of film. As well as bringing together friendships.
Coming from Maui to travel to learn from Sifu Al's STUNT 100 series is well the travel!"
– Jay Curaresma
---
Sifu Als stunt training classes gave me the kickstart I needed to launch my career! Through taking Sifu Al's stunt 101 series classes I was able to develop a strong base for on camera combat. We worked heavily on proper fighting techniques for camera, various weapons, falls, flips, tumbling, grappling, military raid/room clearing drills with firearms, camera angles, and much more. Immediately after training with Sifu Al both myself and actor Mark Medeiros were able to film our first fight scene! The whole experience has also taken my acting to another level as I am now able to combine action scenes with my acting skillset. Extremely happy with the 101 series classes and look forward to Sifus next series!
– Saxon Sawai
---
I recently had the honor and privilege of attending four stunt fighting and fight choreography courses sponsored by the Entertainment Artists Studio here in Honolulu, and facilitated by the legendary Sifu Al Dacoscos.
Initially I wasn't sure exactly what I would get out of these four courses that ranged from an introduction/basics (Stunt 101) course, to a beginner level (Stunt 102), intermediate level (Stunt 103), and an Advanced level (Stunt 104). But, after attending these courses I highly recommend them for anyone interested in acting, stunt fighting, and fight choreography. Not only are you taught the necessary skills to look good performing stunt fighting on camera, such as throwing kicks and punches, but on how to fall convincingly, take a punch or kick, you are also introduced to other aspects of film and television such as slating, camera angling, etc.. Sifu Al takes you through the psychological, physiological, emotional, mental, and spiritual aspects of acting out a really good fight scene. I will never look at a action movie the same as I now have a much better understanding and appreciation for the stunts involved in marking a good movie and selling the fight.
Sifu Al, a legend in the martial arts community, not only teaches you how to look good on camera, but he also teaches you how to make others look good on camera. He will take you through what looks good on film as well as show you the street applications of techniques so you can use them on the street if you have to.
These courses are no joke and physically demanding, but you will come away with a highly desirable skill set that will definitely further your career options.
As a retired combat infantryman with 4 tours in Iraq and Afghanistan , a former Recon Marine, a police officer with over 27 years of experience, including being a member of a High Risk Tactical Entry Team (SWAT), and a Martial Artist with over 34 years of experience in various martial arts systems, I can honestly say these courses enhanced every single skill set that I bring to the table.
If you get a chance to take even one of these courses, make time and see the improvement you will experience. – Kevin Napoleon
---