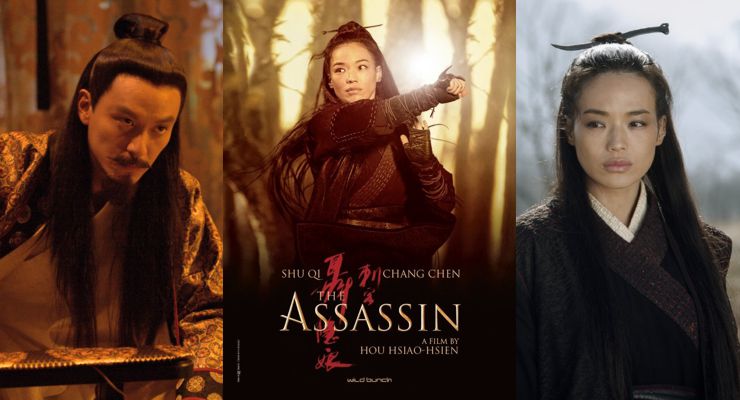 The Assassin (2015) is legendary Taiwanese director Hsiao-Hsien Hou's highly-anticipated return after an eight-year absence from behind the camera. The film was a collaboration between Taiwan, China and Hong Kong. Hsiao-Hsien Hou wowed this year's Cannes Film Festival, winning Best Director. His awe-inspiring film is "a wondrous take on the traditional wuxia film". Set in 9th century China during the unraveling of the Tang Dynasty, Nie Yinniang Qi Shuis a young woman who was abducted at the age of 10 from a decorated general and then raised by a Buddhist nun, Jiaxin, who trained her with martial arts so she could assassinate corrupt government officials. After 13 years of living and training in exile, Nie Yinniang has become an exceptional assassin, except she chooses to spare a target because of his young son and therefore must prove loyalty by returning to the China of her birth with orders to kill the governor of Weibo, Tian Ji'an (Chang Chen), her cousin to whom she was promised in marriage as a child. She is forced to confront her parents, her memories, and her long-repressed feelings and she must choose to sacrifice the man she loves or break forever with the sacred way of the righteous assassins. THE The Assassin (2015) is rich with shimmering, breathing texture and with brief but unforgettable bursts of action. The Assassin (2015) is a martial arts film unlike any other.
The Assassin (2015) is a beautifully, stunning film thanks to cinematographer Mark Lee Ping Bing. It is a martial arts film, but not paced like a martial arts film. For some that pace will detract from the film, others will be drawn into the film in a wholly different way. The fight scenes are quick flashes of motion, as an assassin doesn't take long to do the act. Hopefully the audience will realize that the fight scenes are not important, but what is said and done behind those scenes is what the movie is about.
The Assassin (2015) opened in China on August 27, 2015 and in the United States on October 16, 2015.