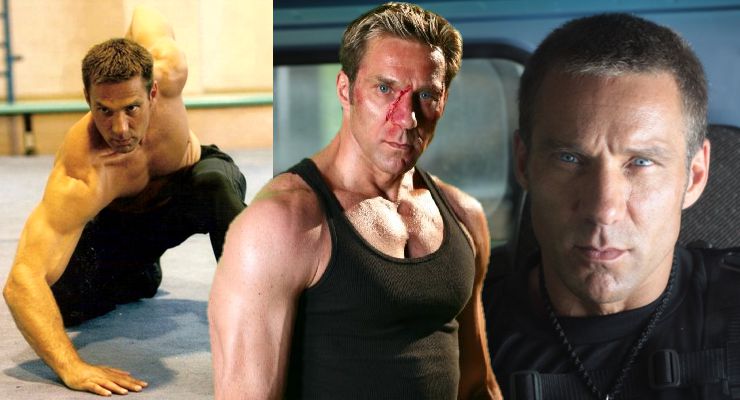 Action film star Gary Daniels started his career as a knockout kick-boxing champion. He is also a knock out in the looks and build department and a charmer from the word go. An aggressive fighter in the ring, he was also aggressive in his desire to be a good actor. It came natural for him to move from the world of fighting to that of fighting on screen and then into acting in mainstream films.
Gary Daniels was born on May 9, 1963 in Woking, Surrey, England. Like many martial artists, he was a childhood fan of legendary martial arts film star Bruce Lee and was a huge fan of Anime. He followed Bruce Lee in the study of Kung Fu at the age of  8 and then to Tae Kwon Do, receiving his Black Belt at 16 years old. At 17 he began training in full contact karate with Micky Birne. Gary demonstrated a natural ability for the sport and it wasn't long before he began a career in the ring, with his eye on winning a world title. Gary was an aggressive fighter, which the English tournament fans loved, but the British Tae Kwon Do officials were not as forgiving, and Gary was disqualified 3 different times for knocking out his opponents. At this point his only three defeats came from those knockout disqualification, including one to Micheal J. Heming, a future opponent of Jean-Claude Van Damme. Gary Daniels posted a 12-3-0 record with all 12 wins by knockout.
Gary realized that he would have much better odds if he was fighting in the United States, so he traveled to Florida and began competing there. In 1980, Gary Daniels made his U.S. debut at the Sunshine State Tournament in Coconut Grove, Florida on March 4, 1980. This time the judges were happy, but not the local fans, as Gary defeated local favorite 'Sherman 'Big Train' Bergman', who a year earlier had lost to Jean-Claude Van Damme at the World Full-Contact Championships. Daniels proceeded to lose a 3 round decision and he was was eliminated from the tournament.
Southern California was really the place to be for sport kick-boxing so after a few more matches in Florida, Gary Daniels moved across the country to continue his career in California. It didn't take long for Gary to establish himself as a top contender for the world title. His knockout streak continued to grow and he began to appear in different martial arts magazines. Soon after winning the PKA (Professional Karate Association) Lightheavyweight Kickboxing Championship, Daniels decided to retire from active competition. It was 1993, and Daniels ended his fighting days with a 22-5-0 (21 knockouts) record.
In the United States, Gary trained under Sil Lum Kung Fu instructor Winston Omega as well as with Benny Uriqidez and former world full-contact kickboxing champion Joe Lewis.
His ring fame helped land Gary small roles in the hit television series, Miami Vice. Daniels later traveled to the Philippines to make martial arts films. From there Gary went into mainstream film-making; acting in over 45 movies, as well as producing some of his own motion pictures.
Gary Daniels played martial arts villains for many years. He starred or co-starred in many films including City Hunter with Jackie Chan and Richard Norton, in American Streetfighter with Gerald Okamura and Ian Jacklin, Prime Target, Union Jack Ring of Fire and Bloodfist IV with Don Wilson, Firepower with Chad McQueen, Capital Punishment with David Carradine and Knights with Kris Kristofferson and kickboxing Champ Katy Long. More recently he can be seen in Expendables (2010), The Legend of Bruce Lee (2010), Game of Death (2010) with Wesley Snipes and two R. Ellis Frazier films, Misfire (2014) and Rumble and he is getting ready to do The Rogue (2016).