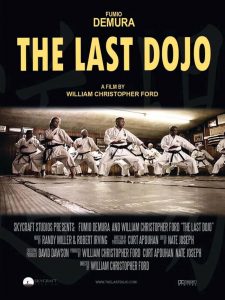 The Last Dojo (2018) is a one of a kind documentary short film about Sensei Fumio Demura's legendary dojo (martial arts school) in Santa Ana California. An amazing list of the martial arts greats have trained and visited Sensei Demura in his world renowned dojo. We invite you to journey with us as our team documents the final days of Sensei Demura's world renowned dojo, and the incredible impact it has made in the martial arts community.
In The Last Dojo (2018), Director William Christopher Ford interviews Sensei Fumio Demura ("The Real Miyagi") and Sensei Demura shares his thoughts and recollections about his legendary dojo and how it came to be and about the American martial arts culture his dojo inspired.
Curt Apduhan was a producer for The Last Dojo (2018) as well as the cinematographer. Music was composed by Randy Miller and Nate Joseph was both a producer and the editor of the film.
Sensei Fumio Demura is a world renowned master of karate and kobudo. He was born in Yokohama, Japan in 1938. Sensei Demura trained early on in the arts of karate and kendo. He came to the United States in 1965 and began teaching and writing books on marital arts and self defense.
Throughout the years, Sensei Demura has trained countless high profile marital artists who have gone on to have successful careers in the film industry. Bruce Lee and Chuck Norris just to name a few.