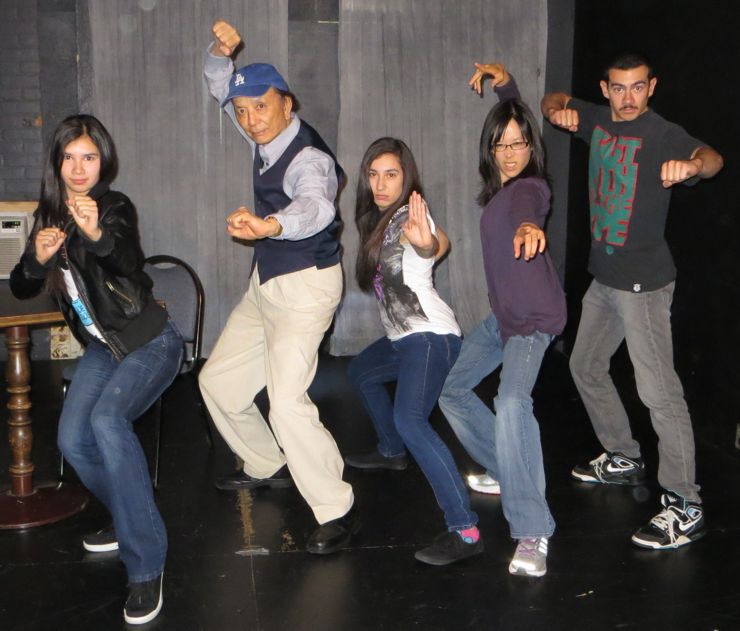 Our recent trip to Hollywood began 8 years ago, in 2004, when we first met Mr. James Hong during one of our Kung Fu demonstrations. We were very excited to perform in front of Mr. Hong, for not only was he the legendary film actor who had played more roles than any other movie actor in the history of film making, but Mr. Hong was also the voice of Chi Fu in the full length Disney animated movie, "Mulan!" Since we were little kids at the time, Anthony Jr. was only 8, Jasmine 10, and Monique 12, and we knew "Mulan" as one of the greatest movies ever created in the history of the universe, and we were very excited to be performing and for the opportunity to meet Mr. Hong that day.
Throughout the years we would continue to cross paths with Mr. Hong and his talented actress daughter, April Hong. On April 28, 2012, after our martial arts demonstration at Master Fanelli's All-Star Event and at Bruce Lee's actors' reunion of "Enter the Dragon," it was decided that we should go to Hollywood. April and her father had watched us grow up and they wanted to help us reach a whole new level with our performances and so we needed to go to Hollywood for training with the Hong's.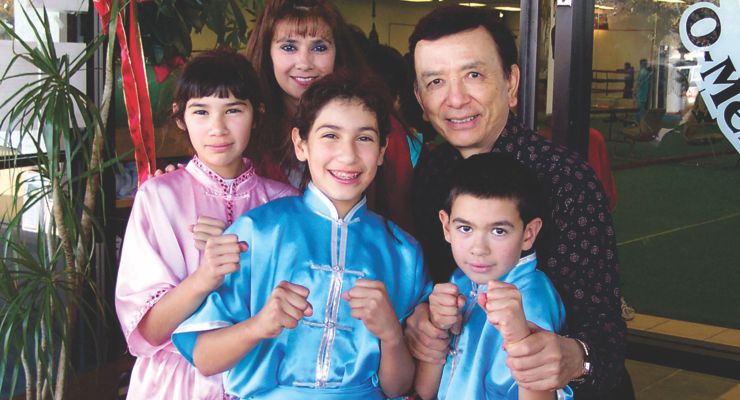 After a few phone conversations, a month had passed, and we found ourselves on the road to Hollywood. Because of time and scheduling issues, our training would need to be intensified to maximize our results. We understood we would be working before, during, and after training sessions with extra evening homework given once we were in Hollywood. Mr. Hong and April worked on finding the perfect scripts for us and sent the first one before we left home. We practiced and memorized our lines during our Hollywood road trip and continued working on them until we fell asleep that night in the hotel room.
On May 26, 2012, we found ourselves standing in the hallway of a Hollywood theater and could hear Mr. Hong's voice coming from inside the theater. April asked us to give them a few minutes before entering the theater. As we waited, we were trying our best to keep calm. It was very difficult because soon we would be acting with Mr. James Hong and his daughter April Hong!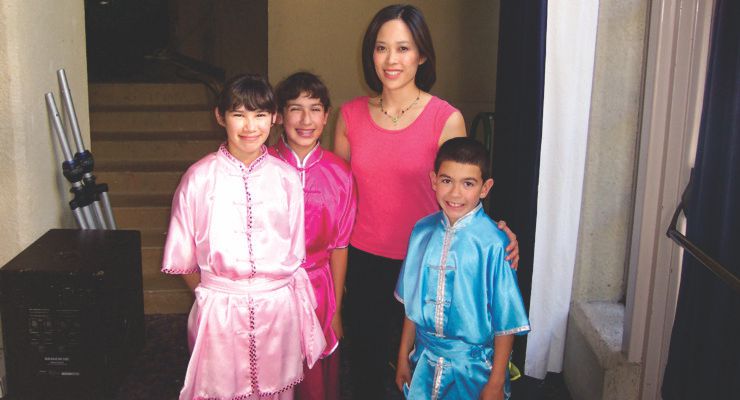 As martial artists we have performed in many martial arts demonstrations and competitions on many different stages. We all had previous theater training, but this time the feeling was much different, this was to be with James and April Hong! Our nerves and emotions were running to extreme levels. Monique remembers feeling like the Lion in "The Wizard of OZ" and wanting to run down the hall and dive out the window. Alas, Monique was saved in the nick of time, as we were called into the theater and warmly greeted by Mr. James Hong and his daughter April. They were both very inviting and did a great job of calming our nerves and preparing us for what needed to be done.
Our training was be precise and intense, there were no night breaks between sessions, as we were given new scripts and to practice, and learned during the evening. Mr. Hong would take the first day and April the second. We acted, sang, and danced through our sessions, working hard and learning from each of the Hong's unique training styles. April had learned from, and acted with, her father throughout the years, so their training styles complimented one another effectively.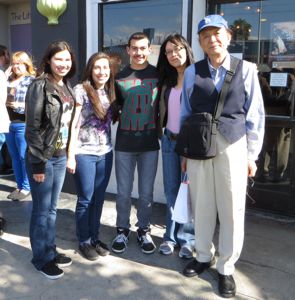 Over the course of our training, we learned many important techniques and concepts. We learned multiple stage exercises and the importance of these exercises in preparing our minds, bodies, and souls for the task ahead. We learned how to explore and interpret scripts in many different ways and to use these various interpretations to get the best out of ourselves and the scene we were performing. We learned how energy can and should be maximized between actors and the audience in order to enhance everyone's overall performance. By the end of our awesome and intense training sessions, our range, skills, and acting confidence greatly increased.
Mr. James Hong and his daughter April Hong are amazing actors, skilled teachers, and overall beautiful people. Our work with them was very hard and so much fun. We had a great time learning, and we enjoyed many wonderful moments together, including much laughter. It is an amazing honor and privilege to be students and friends of the Hong's. We look forward to seeing them again, and we are very thankful that they helped tame the lions which otherwise might have dove out a window. : )