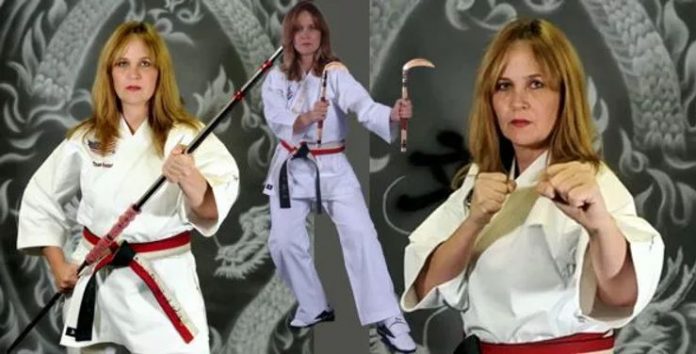 Martial artist and media personality Theresa Zaino has been cast in The Martial Arts Kid (2015).
Martial-arts and action-movie legends Cynthia Rothrock and Don "The Dragon" Wilson come together for the film, which focuses on the pair, who play an aunt an uncle, taking in an unruly and troubled young relative to their Florida beach town after the death of his mother. Soon, in an effort to channel his anger and rage, they begin to teach him martial arts.
Theresa Zaino was an "Air Force Brat" from the day she was born at Fort Dix, New Jersey on January 29, 1963 and spent most of her childhood in England and upstate New York. Her family later settled in Palm Beach County, Florida when her father retired from the United States Air Force in 1972.
In 1984 Theresa Zaino began her martial arts studies in the style of Kang Do Kwon Tae Kwon Do under the tutelage of her future husband Danny Zaino. Theresa Zaino has remained dedicated to her martial arts training for the past thirty years.
While committed to the GoJu-Ryu style, she has also studied the arts of Tae Kwon Do and Thai Boxing. Throughout her training, Theresa Zaino has competed at martial arts events on a State, National and World level.
For 9 years Theresa Zaino operated a commercial martial arts school along with her partner and husband Danny Zaino, specializing in children's programs. She also assisted with the martial arts training of her three young adult children" Tony, Joey, and Dominique Zaino.
Theresa Zaino trained them, as well as other members of their Team Americas "World Martial Arts Show Team" – formerly known as "National Team Pepsi Show Team" – as Assistant Head Coach.
In 2006 Theresa Zaino began her online radio career with husband Danny Zaino. Together, they interviewed scores of martial arts celebrities and special guests for their "Martial Arts Entertainment Radio" network on "The Danny & Theresa Zaino's Martial Arts Radio Hour".
Theresa Zaino is also the chief editor for their "Martial Arts Entertainment Magazine" online publication and one of the stars of the "Martial Arts Show Biz TV" online television show, starring the Zaino family – which is a reality based online show that helps promote martial arts celebrities, movie stars, Hollywood movies, events and products.
Because of her love for the entertainment business, in 2010 Theresa Zaino started her own Florida State talent agency and – as of 2012 – has her own SAG-AFTRA franchised talent agency in Jupiter, Florida – the "Action Entertainment Talent Agency".
Theresa Zaino is currently a spokesperson and model for Cynthia Rothrock and Don "The Dragon" Wilson's "Traditionz" clothing line, Martial Arts Embroidery embroidered belts, the Cellese Corporation's "AnteAGE" anti-aging skincare line, and Genesis Pure supplements.
The Martial Arts Kid (2015) will start filming this June and is scheduled to hit theaters in the Summer of 2015.