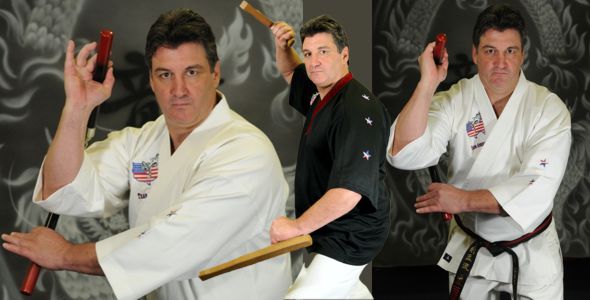 Martial artist and media personality Danny Zaino has been cast in "The Martial Arts Kid".
Martial arts and action movie legends Cynthia Rothrock and Don "The Dragon" Wilson come together for the film, which focuses on the pair, who play an aunt an uncle, taking in an unruly and troubled young relative to their Florida beach town after the death of his mother. Soon, in an effort to channel his anger and rage, they begin to teach him martial arts.
Danny Zaino was born on August 2,1960 and is originally from Long Island, New York. He began his martial arts studies in Palm Beach Gardens, Florida at the age of fifteen at the local YMCA.
Dabbling in the arts of Kang Do Kwon Tae Kwon Do and GoJu-Ryu, Danny Zaino began seriously training after high school – when he joined the United States Army as a Military Police Officer.
Stationed in Korea, he studied the art of Moo Do Kwon Tae Kwon Do. After 13 months he was transferred to Fort Bliss, Texas. It was there he joined the U.S. Army Karate Team and became a member of the Black Knight Karate Association, studying the art of Japanese GoJu-Ryu. During this time, he competed and performed extensively on an international level.
Upon completion of his military service, he became a Florida Law Enforcement Officer and earned the title of "Kumite Champion" at the Florida Police Olympics in 1984.
With four decades of dedication to the martial arts, Danny Zaino feels he "has accomplished everything a professional karate teacher could ever dream of and more".
In 1998, Dany Zaino received a Hall of Fame award for "Innovative Weapon Design of the Year" for his "Pure Warrior" Sports Tonfa, designed with competition in mind. He has also has been recognized seven times as "Promoter of the Year", along with wife Theresa Zaino, for their "Battle of Florida" National Martial Arts Championships.
From 2000 to 2008, he ran one of the top teams in the United States "National Team Pepsi Show Team", now "Team Americas", which are known for their unique and entertaining martial arts performance shows – and for which they have received numerous awards.
Today, he is the CEO of his own online production company "Living the Dream Productions", which produces the hit online TV Show "Martial Arts Show Biz TV" in which he stars, "Martial Arts Entertainment Radio" where he is the co-host of "The Danny & Theresa Zaino's Martial Arts Radio Hour", the "Martial Arts Entertainment Magazine" online publication, and his newest venture, "Celebrity Promotions".
Danny Zaino is currently a spokes model for Cynthia Rothrock and Don "The Dragon" Wilson's Traditionz apparel line, Martial Arts Embroidery embroidered belts, the Cellese Corporation's "AnteAGE" anti aging skincare line, and Genesis Pure supplements. He is the Founder of his own American GoJu-Ryu Karate Federation and currently holds the rank of 8th degree Black Belt.
"The Martial Arts Kid" is set to begin filming in June and is scheduled to hit theaters in June 2015.