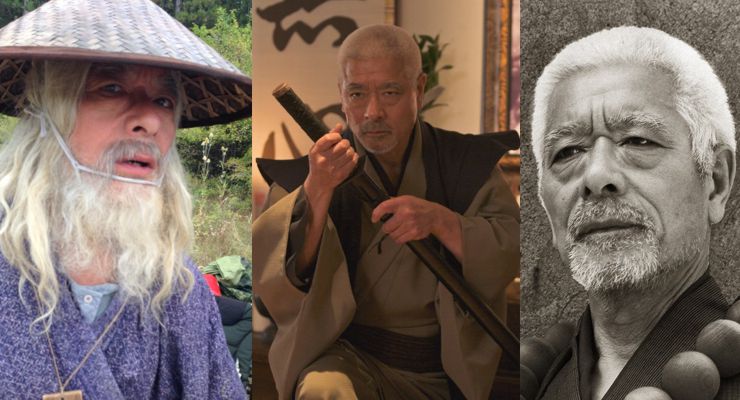 Togo Igawa is an actor and director who lives in England. He trained in Japan at The Haiyuza Theatre Company Acting School and Toho Gakuen College of Drama and Music. In 1986, he became the first Japanese actor to become a member of the Royal Shakespeare Company. His work spans stage, film, anime, games and television, including movie roles in "Incognito" (1998), "Memories of a Geisha" (2003), "The Last Samurai" (2005),"Night Train" (2009) and "47 Ronin" (2013). Since 2009, he has been the voice of Hiro, the wise Japanese train engine in "Thomas and Friends". In 2012, he was nominated for a BAFTA Games Award for his role in "Total War: Shogun 2″ (2011). Mr. Igawa lives in north Oxfordshire, England.
Togo Igawa is not a martial artist, although he did study Kendo for two years starting when he was eight years old. Togo has played in many martial arts action movies including Street Fighter: Assassin's Fist as Master Goutetsu, in The Last Samurai as General Hasegawa, Memoirs of a Geisha as Tanaka, and he did the voice for the Tengu Lord in 47 Ronin.
Togo Igawa was born on September 26, 1946 in Toyko, Japan. He is small of stature, only 5'6". Togo began studying acting at 22 years old and he was a founding member of the Black Tent Theatre Company for 13 years. He and English wife moved to England where is worked for a translation company until, in 1986, he discovered that there were very few Japanese actors in the UK. He found an agent that accepted his Japanese acting experience and began acting again.
It is often said that it is easier to choreograph fight scenes with non martial artists and this is defiantly the case with Togo Igawa. He has played with many top martial artists in many martial arts movies. These include Isaac Florentine's Ninja, as Sensei Takeda, working with Sensei Fumio Demura, who, you remember, doubled for Mr. Miyagi in The Karate Kid and with martial arts star Scott Atkins. Scott got Togo involved in the TV series Street Fighter: Assassin's Fist. In The Last Samurai Togo worked with Tom Cruise, who was trained for 8 months by Nick Powell in karate and kenjutsu and by co star Hiroyuki Sanada who is trained in karate, kenjutsu, ninjitsu and in acrobatics and dance, and with Shin Koyama who has trained in karate, kyudo and gymnastic.