Tommy Bayiokos is a martial artist who applied his years of martial arts training to showbiz, as an actor, drummer and percussionist and as a model. His long list of credits include being a band member with his missed friend, great songstress/actress Laura Branigan.
Tommy was born Athanasios Bayiokos on May 22, 1965 in Brooklyn, New York. His father owned the landmark Campus Sugar Bowl restaurant at Brooklyn College for decades, and his mother was a former beauty queen who was crowned "Miss Greek Independence". Tommy began playing the drums professionally at the age of ten. He attended Brooklyn College where he graduated with a Bachelor of Science degree, active in the Performing Arts Gershwin Hall, Walt Whitman Theatre and was a member of the Brooklyn College Jazz Ensemble. He also trained for eight years at the famed Drummers Collective School of Music in Manhattan and stage studies at the New York School for Film & T.V.
Bayiokos' musical credits include playing the prestigious Miss America pageants from 1998 to 2001 and performing as a percussionist with Branigan's band from 2001 to 2004 headlining in venues such as Meyeroff Symphony Hall and the Mohegan Sun Cabaret Theatre. Other performers he's played with include Frankie Avalon, jazz pianist Lee Musiker and rocker Richie Ramone. Bayiokos' acting career grew after appearing as an Elvis Presley tribute artist in 1999 on New York-based WPIX-TV's Morning News. He went on to appear on the PIX Morning News shows another 12 times as a guest performer through 2006 highlighted in an episode as weather forecaster.
Bayiokos was an original participant in the video series Masters In Action.
His credentials include cameos in the TV shows The Next Best Thing (2007), Orange Is The New Black (2013), as core F.B.I. agent in The Americans (2013- ), Person of Interest, Zero Hour, Blue Bloods, as one of Frank Reagan's (Tom Selleck's) recurring lieutenant's, The Sopranos and Third Watch.
Bayiokos has also held parts in films including Five Minarets in New York (2010), The Taking Of Pelham 123 as Garber's Hero Transit Cop, Blood Ties (2013), The Amazing Floydini (2004), Black Nativity (2013) and Heart & Soul. Most recently he has had a recurring role on NBC's American Odyssey (2015) as the Greek bodyguard to the ambassador Sofia.
He also did Broadway's dinner theatre show Murdered By The Mob as Officer Townsend.
His modeling credits include portraying a secret service agent in world issue of French Vogue, as musical play actor on Las Vegas billboard for U.S. Sprint, and he was the face of Sweden-based Exuviance Men's Skin Care.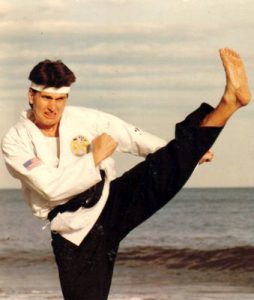 He is also an accomplished Black Belt martial artist and was inducted into the "Martial Art Hall of Honors" in 2009 and awarded "Ambassador of Goodwill" in 2011 and 2014. His talents have caught the attention of the New York Times (front page photo) and written in numerous news media including the New York Post, Gossip Column "Page Six", The Gothamist, People Magazine, The Guardian and interviews on public access TV Shows.
Tommy Bayiokos began his martial art training at the age of eighteen in unison with his early musical studies. A severe asthmatic as a youngster, he later overcame this illness and to this day credits the martial arts for his good fortune. Having trained in Brooklyn directly under Master John Anastasia at the "S Karate Center" for thirteen plus years, he earned his first Dan Black Belt in "Korean Moo Duk Kwon Tae Kwon Do". He went on to study Wing Chun Gung Fu with Master Alan Goldberg and trained with boxing guru Martin Snow both at Brooklyn's legendary Gleason's Gym and Trinity Boxing NYC.
Bayiokos was an active tournament competitor in the 1980's "Henry Cho" world tournaments at Madison Square Garden. He branched out later to open his own dojang Spartan Warrior Karate at the Three Hierarchs Church in Brooklyn and later taught for years at the Brooklyn Dance Spot in Marine Park Brooklyn. Tommy has enjoyed holding one inch punch seminars. The one inch punch was made famous by the late great Bruce Lee.
Tommy is also proficient in Tai Chi Quan, CDT (Control Direct Takedown), Chanbara (Japanese weaponry), and Jeet Kune Do and he was inducted into the prestigious martial arts Action Martial Arts Hall Of Honors in 2009.
Tommy continues to train today and is currently auditioning for upcoming roles. He considers his martial art status as an asset to his work in the film industry and his spirit of well being.