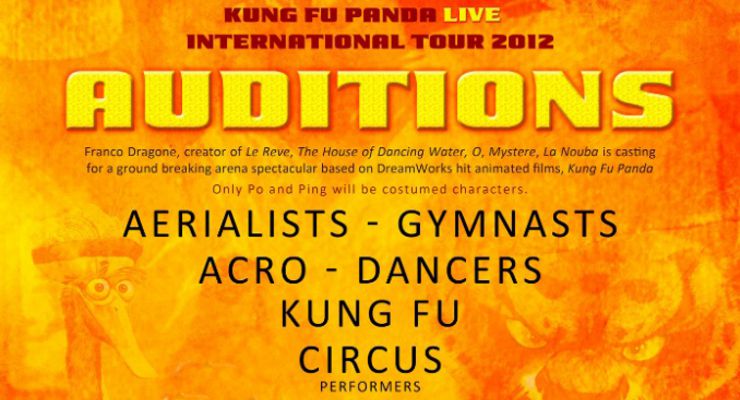 Franco Dragone, the world's most spectacular show creator with groundbreaking productions such as "O", "La Nouba", "Quidam", "A New Day", "Le Reve" and "The House of Dancing Water", has the pleasure to invite you to the U.S. auditions for the "Kung Fu Panda International Tour" in association with Dreamworks Animation.
Please be prepared to demonstrate your specialties in gymnastic and/or acrobatic and/or Kung Fu and/or acting and/ or Circus arts and personal skills. You will be asked to do strength test of varying and appropriate degrees. You may be asked to learn a dance or Wushu combination.
Kung Fu Panda Auditions 2012 PDF
Description:
Seeking Male and Female Performers:
Multi-talented Gymnasts and Acrobats with strong movement and dance skills
Kung Fu and Wushu Artists
Circus Artists:
Aerialists, Russian Bar, Spanish Web, Straps, Banquine, Contact Juggling
CHARACTERS: Note: Only Po and Mr. Ping will be costumed characters.
Wanted profile
Po – Male, min. 6″ (1m80) acrobatic performer with strong acting skills
Mr. Ping – Clown skills
Tai Lung – Male, 6″ and above, (1m80 + )
Wrestler Physique – Strong Acrobatic and Acting Skills
Furious Five – Strong Gymnast/acrobats with special performance and dance skills.
Tigress – Female – Stuntwoman, kick boxer
Viper – Female – Contortionist
Monkey – Male – Break Dancer, Hip Hop, Parcours
Crane- Male – Spring Stilts, Contortionist
Mantis – Male – Break Dance, Hip Hop
San Francisco – January 13 and 14, 2012
Las Vegas – January 16 thru 18 2012
Los Angeles – January 20 thru 22, 2012
Chicago – January 24 and 25, 2012
Orlando – January 27 and 28, 2012
Go for it USA !
For Information and Sign Up
http://casting.dragone.com/
castingkfp@dragone.be
You must bring:
– Head shot, resume, DVD demo.
– Proper shoes and clothing for dancing, gymnastics, or Kung Fu.
– Any sport gear or Kung Fu performance weaponry.
Auditions will begin at 9 am. Please be prepared to possibly spend the day. You may be called back later in the afternoon or the next day. We will try to accommodate your time restrictions as best we can.
IMPORTANT! If you plan to audition for one of the lead characters, we highly recommend you watch the movie, and show us how you would bring your animated character to life on the stage utilizing your particular skills and acting abilities.We welcome your personal interpretation.
We inform you that the auditions will be filmed. Videos recorded on this occasion will be used purely for reference and on no account for commercial purposes.
If you receive this invitation less than three days before the audition, you can go directly on the place of the audition, without preliminary registration on the website.
For any other questions, you can contact casting@dragone.be
http://casting.dragone.com/
casting@dragone.be
Artistically yours,
Dragone Casting for KFP