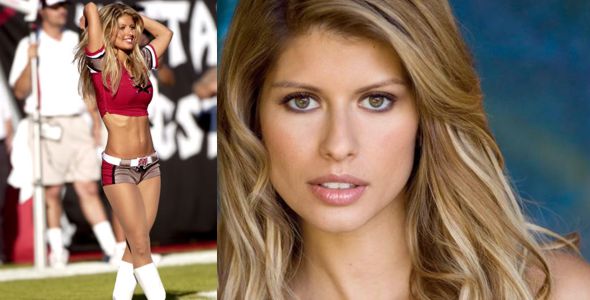 Former Tampa Bay Buccaneer Cheerleader (captain), Playboy model, and TV/movie actress Vicki Vodar is now officially part of an increasingly impressive cast in "The Martial Arts Kid" .
The stunning blonde is currently best known as an actress for roles as a "crazy lady" in 2008's "Mutants", Julia in 2012's "Cross Threads" and as a stunner in 2013's "Sunlight Jr." is set to grace the big screen with her beauty alongside what is shaping up as an ensemble of legends, headlined by the film's co-stars: Cynthia Rothrock and Don "The Dragon" Wilson.
"The Martial Arts Kid" co-producer James Wilson (brother of Don) says that although it is impossible to ignore Vodar's stunning good looks, he admires her ability as a an actress – which is why he cast her as a teacher in the film.
"We are having her play a serious role", said James Wilson. "We are not doing a 'Hot For teacher' video. We are respecting her as an actress. Though there's no way we could make Vicki not beautiful, to us having her play it straight was much more interesting thatn having her running and bouncing in a bikini on the beach."
Vodar says she was tickled pink when she learned she had landed a role in the film.
"James…asked me to come in and read with the director Michael Baumgarten. I read with Michael, he was impressed, and he cast me", she says excitedly. " I recently found out I'll be playing a High School teacher in the movie and I'm really excited about it."
Rather than feeling out of place in a cast and plot that are obviously martial arts-centric, Vodar says she is immersing herself in that world.
"I have to be honest, before this movie came along, I didn't know too much about the Martial Arts World, but I'm so thrilled I'm getting a chance to learn about it firsthand – and from the best", says Vodar. "That's the great thing about acting. You get to explore these people and worlds that you may not have on a regular basis."
Vodar says she is especially excited to be working with martial arts/action legends Don Wilson and Cynthia Rothrock.
"I got to meet Don at the Traditionz Movie party that was promoting 'The Martial Arts Kid'. He was very gracious, friendly, and down to earth. He didn't shy away from taking a picture with everyone there", says Vodar. "I look forward to working with him. His reputation is quite impressive. He is probably one of the greatest Kickboxers of all time – not to mention his long list of acting credits!"
"I haven't met Cynthia Rothrock yet", she adds, "but I look forward to working with her too. I love confident strong women!"
"The Martial Arts Kid" is scheduled for a Summer 2015 release.