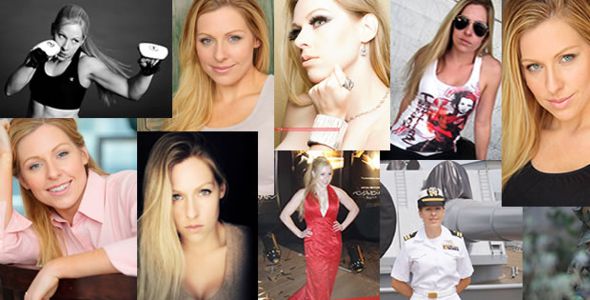 When Adrienne Camille was growing up, she was inspired by martial arts/action-movie legend Cynthia Rothrock.
Now, recently cast in "The Martial Arts Kid", she will get to work with her.
"It's a dream!", exclaims Camille. "I loved watching Cynthia! It's hard to be the only girl who studied martial arts in my small town in Texas (Humble, pronounced with a silent H, which in a weird bit of trivia is the same town Howard Hughes was born in.). "But she kicked butt around the world when no woman did, and she is truly inspirational to me."
That inspiration led Camille to pursuing martial arts herself.
"I started learning marital arts in the backyard of my Filipino boyfriend's house, taught by his older brother. There were no dojos or real schools there", says Camille. "Lesson one: how to kick a tree properly!"
From such – if you'll pardon the pun – "Humble" beginnings, Adrienne Camille has had both successful acting and martial arts careers.
"I started acting in theater when I was 3 but did 4 years in the navy before heading to Hollywood", she says. "I was the host of a TV show in Japan called "FOX Backstage Pass" and I was a regular on "TMZ on TV."
Adrienne Camille also been on a few soap operas and independent movies – and is currently studying at James Franco's school, Studio 4 – but it was her love for martial arts that helped her land her latest role.
"I was one of the first martial artists in the …..campaign for Tradionz -the company producing the film – which is also the company producing Don (Wilson) and Cynthia's clothing line. I've have remained friends with the whole group ever since."
One of "the group" that Adrienne Camille also looks forward to working with is new "Kid" cast mate Tara Cardinal.
"Tara Cardinal is a great friend of mine. She is a force and a wonderful actress", gushes Camille. "We've worked on a few projects together and I'm excited to do another!"
"I'm very excited because I have been studying Muay Thai for 12 years now and would love to do more action related movies like this", Camille says.
She then adds one more thing she is looking forward to – and one slightly tongue-in-cheek "disappointment".
" I am a Good Guy!", she exclaims. "I'll be one of Don's students. I was hoping I could play Cynthia's "mini me" clone but that didn't' make the script", she says laughing.
"The Martial Arts Kid" is set to hit theaters in 2015.