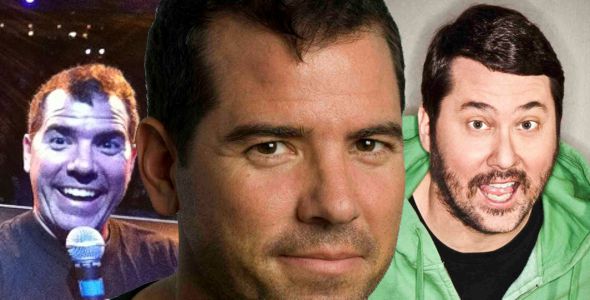 American Comedian Graham Elwood Cast In The Martial Arts Kid
Graham Elwood has built a sizable following as an American comedian, actor and writer.
However, he is also a martial artist and it's that fact that that has helped make his recent casting in "The Martial Arts Kid" possible – and makes the funnyman pumped to be working on a project with martial arts/action movie legends Cynthia Rothrock and Don "The Dragon" Wilson!
"I know Jim (Wilson, who is Don's brother and co-producer on "The Martial Arts Kid") and Don through Gerry Blanck. Gerry is my Karate instructor in LA", says Elwood. "I'm trained in Yoshukai Karate and Eishen ryu Samurai Sword."
Elwood adds, "I feel very honored and excited to be involved with two martial arts legends!"
Born in Stoughton, Wisconsin, Elwood grew up in the Nakoma neighborhood of nearby Madison. After his parents divorced, he later moved to Evanston, Illinois.[1] While in Evanston, Elwood went on to captain his high school's football team and played lacrosse as well. He later graduated from the University of Arizona with a Bachelor of Fine Arts degree.
Elwood hosted the Game Show Network original series "Cram" and the USA Network/syndicated game show "Strip Poker". From October 2006, he appeared in a DirecTV testimonial commercial as "Graham – Customer since '01". He co-starred with fellow comedian Doug Benson in "The High Road with Doug Benson" on the G4 Network and can be seen in "Super High Me".
Elwood has made TV appearances on CBS's "The Late Late Show" talk show and "The Sarah Silverman Program" and "The Benson Interruption" on Comedy Central.
In 2008, he co-founded and continues to host "Comedy Film Nerds" with Chris Mancini, a weekly podcast. Along with his US tours, Elwood has done 5 USO tours to Afghanistan and Iraq to perform for the troops. He has directed "Laffghanistan: Comedy Down Range" a documentary about his experience overseas, entertaining the troops and "Graham Elwood: Live from Afghanistan". Elwood has also created "Comics in Combat" to raise money for veterans.
Elwood has released two CDs filled with his comedic material: T"he Comedian's Got A Boo Boo" in 2009 and "Palm Strike Dance Party" in 2012.
Now comes "The Martial Arts Kid", Elwood says he will be looking forward to not only working with male martial artists like Don Wilson and TJ Storm, but a cast full of attractive women ranging from the incomparable Rothrock to Natasha Blasick, Vicki Vodar, Inga Van Ardenn, Sofya Skya and Tara Cardinal.
"I hope I get my ass kicked by a hot lady", Elwood says laughing. "(That's on my) bucket list!"
"The Martial Arts Kid" is scheduled to hit theaters in the Summer of 2015.