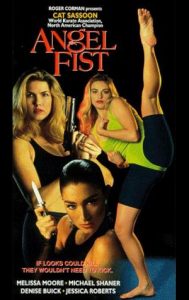 Angelfist (1993) is a martial arts action film starring Catya Sassoon, Michael Shaner, and Melissa Moore. Actor and Filipino martial artist, Roland Dantes also stars in the film. The film is directed by Cirio H. Santiago, and produced by Cirio H. Santiago and Roger Corman.
Angelfist (1993) takes place in the Manilla in the Philippines. When a United States Colonel is killed by the Black Brigade, a martial arts kickboxer by the name of Kristie Lang catches the crime on film and she is subsequently assassinated by the radicals who are intent on disrupting peace talks that are currently to take place.
Kristi's sister, Katara Lang (Catya Sassoon), a Los Angeles police officer, comes to Manila to capture and bring to justice the people responsible for Kristie's death. To capture the culprits, she trains with Bayani (Roland Dantes) in the martial arts and then takes her sister's place in the kickboxing tournament so she can get closer to the nefarious agents. Kat begins to unravel the twisted plan, while narrowly evading the wrath of the Death Brigade.
The star of Angelfist (1993), Catya Sassoon was not a martial artist, so she began studying tae kwon do and arnis de mano for her role as the undercover narcotics agent forced into the world of competitive and extreme martial arts to solve the murder of her sister.
M. Ray Lott, in his book on terrorism in American cinema, said about Catya Sassoon's role in Angelfist (1993) that in the "subgenre of the female martial artist", Angelfist was "much more interested in showing her as a sexual object" than would be the case in a film with Cynthia Rothrock, the usual figure in that subgenre. Her nude appearance resulted in her being "almost launched as soft-porn action heroine". Lott called the film itself "a titillating exploitation vehicle for undiscriminating action audiences" and acknowledged that "[i]t knows its target audience".