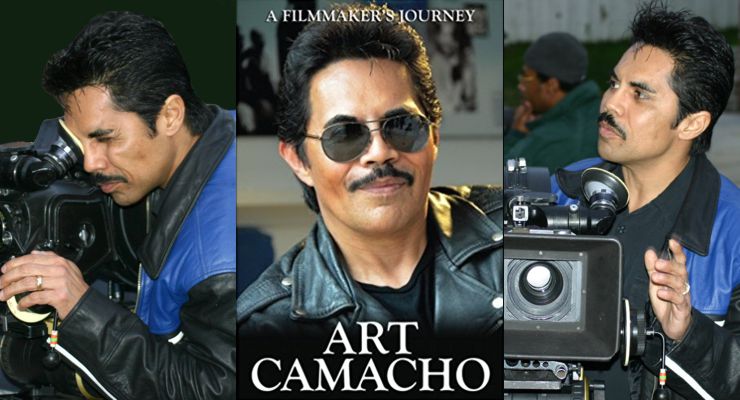 In Art Camacho: A Filmmaker's Journey, the award-winning film director, Art Camacho provides a personal view of growing up Hispanic, his path into the movie industry, the failures he faced, the influence Bruce Lee played on his life, how he got into Hollywood, the steps he took to become a director, how you can become a filmmaker and how he overcame many of life's obstacles to make his dreams come true.
About the Author
The author of Art Camacho: A Filmmaker's Journey is an award-winning action film Director/Fight choreographer/stunt performer and he has a vast experience in the entertainment industry. Art Camacho recently produced two Spanish language action films and was Consulting Producer on "The Jadagrace Show" starring Motown legend Barry Gordy's granddaughter Jadagrace.
Art Camacho wrote the story for Cage fight in addition to producing the movie. His studio releases include Sony Pictures "Half Past Dead 2". HPD 2, he was the Action Coordinator/2nd unit director on the original (Half Past Dead starring Steven Seagal and Ja Rule).  Art Camacho also Co-produced, wrote and Directed "Confessions of a pit fighter" released in by Lionsgate Pictures.
With over 36 action films under his belt as a fight choreographer he was dubbed "The Fight Master" by the leading martial arts publications. Camacho then became a successful feature film Director/Producer. In Lionsgate release: Confessions of a Pit fighter, Camacho not only directed the feature but wrote, and Co-produced it as well. It starred Armand Assante, James Russo and Flavor Flav.
Camacho soon distinguished himself as one of the "Promising directors in the action film genre" according to Premier magazine. His Producing/directing film career has not been limited to action but all genres including family films. His film Little Bigfoot went on to become the third highest grossing DVD release for Republic pictures and garnered two stars in TV Guide. His directorial debut, The Power Within, garnered rave reviews from the International film community and was extremely lucrative in the Foreign and Domestic film markets.
Camacho also Directed episodes of LA Heat; and Reyes y Rey, for Sony Pictures. He has been featured in numerous international magazines and L.A.'s largest Spanish Language Newspaper "La Opinion" dubbing him "One of Latino Hollywood's best action directors". Also featured on Hola Los Angeles, Cinemax Mexico's channel 12, Despierta America and Control.
Recently featured on Latin Nation, he was the first recipient of the "The Outstanding Director of the Year" award from the Action on Film festival 2005/2006, and The Golden and Bronze Halo Awards from the Hollywood Motion Picture Counsel. Art Camacho was also recipient of an award from the World Martial arts Association that was presented to him on behalf of Alan Horn (CEO of The Walt Disney Company) and Michael Klausman (President of CBS studios).
---