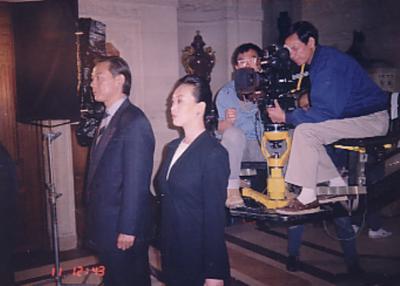 Before we begin I would like to share something about the action film industry. People are jealous and there are more actors than parts. Someone on facebook asked my why do I share my success secrets in the magazine. Well, to tell the truth it is because I am not working in the US market. I work in Hong Kong, China and Korea now. So YOU are not going to be my competition. Otherwise, I would not give away such good information. That is just a bit of honesty. Now, back to the article.
Ever heard the line practice makes perfect? Well the same goes when you go for an audition in the hopes that you will find work in action films or on television. Here are a few auditioning tips and helpful hints you should know.
An audition normally lasts between 2 to 3 hours but some can last all day so be prepared. You have to signup and since it is on first come first serve basis, make sure you are there 15 minutes before the audition starts. This will give you some time to relax and practice your monologue one more time before they call you on stage.
While waiting for you turn, pay attention to the person who signed up before you because after him or her, you are the one who is going up next. If you have to wait for quite awhile, bring along a
book and a bottle of water to keep yourself hydrated.
Since you are guest here, be nice to everyone because you may never know who you run into. This goes even to the individuals who are vying for the same parts too.
The nice thing about an audition is that unlike a job interview, you don't have to go in there in business attire. You can wear something neat and comfortable. Never make the mistake of wearing a costume or something too formal.
You should also be careful when using a perfume or cologne since it could be too strong.
If you have never done an audition for this company before, do some research so you know what kind of work they specialize in. This will help you pick the right monologue for the audition. But if no information is given, just have your best ready and keep it under a minute. Should you be able to impress the director and they want to see more, have a few others prepared as well.
Sometimes, your audition will require you to sing rather than act to get the part. If this happens, bring along with you a clean and clearly marked sheet of music. Tell the musician what part of the song to play and make sure this is cut down to at least 16 bars. Carry a good cd to use if they ask you to sing and no musician is there.
Apart from your acting, you should also prepare your resume and a headshot. You should bring at least 5 copies each because aside from giving a copy to the casting director, talents and scouts will probably want to get in touch with you in the future.
It should have your updated contact details so it will be easy for them to get hold of you for a call back. Both of these should be able to fit into a folder because those that don't usually get thrown out. Don't forget to write your name on the headshot even if a copy of your resume is already stapled on the back.
When it's your turn to perform, take a deep breath and smile. Look at the audition space and if there are a few objects there that you don't need, request if these can be temporarily moved away. Afterwards, just walk out the door and hope that what you did is good enough for a call back.
An audition is not a walk in the park and it is the first step that everyone has to take if they want to pursue an acting career in the action film industry. So go to a few and learn from experience so if you don't make it, you know you can do better next time. Hope these auditioning tips will help you land the action film parts you desire.