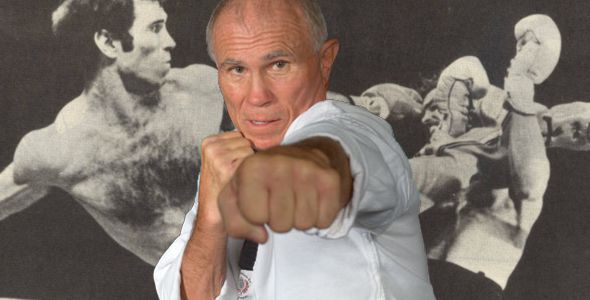 Kickboxing Legend Bill Superfoot Wallace Among 8 Real-Life Champions and Masters Added To The Martial Arts Kid Cast
Bill Superfoot Wallace is among an astounding EIGHT martial arts Masters and Champions officially added to the cast of "The Martial Arts Kid", co-producer James Wilson announced yesterday.
Besides Bill Superfoot Wallace, the other seven are: Jeff Smith, Olando "The Warrior" Rivera, Eric Kovaleski, Rick St Clair, Gerry Blanck, Glenn Wilson and Alan Goldberg.
"From the beginning we wanted to show there is an audience and a hunger for a film with real martial artists at the highest level", says the film's co-producer James Wilson.
James Wilson says that should have been clear from the the film's inception and with the casting of action movie/martial arts legends Cynthia Rothrock and Don "The Dragon" Wilson – James's brother – as the two headliners.
"If you look at some of the big martial arts movie stars in America, some are not true martial artists and even those that are – they are not recognized Masters or Champions", James Wilson says."We wanted to rectify that and have the martial arts in the film be authentic martial arts and to have recognized Masters and Champions."
Bill Superfoot Wallace – along with the other seven names announced yesterday – certainly qualifies.
A true legend, Bill Superfoot Wallace is American martial artist who was a Professional Karate Association world full-contact karate champion. He was the Professional Karate Association (PKA) Middleweight Champion kickboxer for almost six years.
Wallace was born in Chickasha, Indiana, and trained in wrestling during his high school years. He began his study of Judo in 1966, but was forced to discontinue his Judo related activities because of an injury he suffered to his right knee during practice.He then began to study Shorin-ryu Karate under Michael Gneck in February 1967 while serving in the U.S. Air Force. After entering the point fighting tournament scene and achieving success there, he switched to full-contact kickboxing.
With the coaching help of veteran fighter Jim 'Ronin' Harrison, Wallace won 23 consecutive professional fights between 1974 and 1980, becoming the Professional Karate Association middleweight world full-contact karate champion and retiring undefeated.
Bill Superfoot Wallace was known for his fast left leg kicks, especially his roundhouse kick and his hook kick, which was clocked at about 60 miles-an-hour. He focused on his left leg because of the Judo-related injury to his right knee, using the right leg primarily as a base.
Bill Superfoot Wallace turned professional and captured the PKA middleweight karate championship with a second-round knockout. He relinquished the crown in 1980, undefeated.
The PKA was promoting the sport of full-contact karate at the time.. Full-contact karate differed from kickboxing in that leg kicks were allowed in kickboxing and forbidden in full-contact karate.
In 1990 Bill Superfoot Wallace (166 lbs) fought one last exhibition kickboxing/karate match with friend Joe Lewis (198 lbs) on pay per view. Both Wallace and Lewis were refused a boxing license because of their age. The exhibition ended with one judge in favor for Wallace, another in favor for Lewis, and the third judge scored the bout a tie, ending the exhibition in a draw.
Wallace's list of accomplishments was and continues to be impressive to this day.
Wallace studied at Ball State University, earning a bachelor's degree in 1971 in physical education.In 1976, he earned a master's degree in Kinesiology – human kinetics – from Memphis State University.
Wallace has taught karate, judo, wrestling and weight lifting at Memphis State University. The author of a college textbook about karate and kinesiology, he continues to teach seminars across the United States and abroad.[ He has acted, most notably in "A Force of One" starring Chuck Norris. Wallace was also the play-by-play commentator for the inaugural Ultimate Fighting Championship pay-per-view event in 1993, alongside fellow kickboxer Kathy Long and NFL Hall of Famer Jim Brown. Additionally, he administers an organization of karate schools under his "Superfoot" system and was elected to Black Belt Magazine's Hall of Fame in 1973 as "Tournament Karate Fighter of the Year" and again in 1978 as "Man of the Year."
His film credits include the aforementioned "A Force of One" "Kill Point", with Cameron Mitchell; "Continental Divide" and "Neighbors", with John Belushi; "The Protector", with Jackie Chan; "Los Bravos" with Hector Echavarria; "A Prayer for the Dying", with Mickey Rourke; "Ninja Turf"; and "Sword of Heaven".
Bill Superfoot Wallace was a trainer and close friend of Elvis Presley and John Belushi and was the personal trainer who found Belushi dead of a drug overdose at the Chateau Marmont on March 5, 1982.
Bill Superfoot Wallace has written and co-written a number of books, including: "The Best of Bill Wallace"; "Competitive Karate: Featuring the Superfoot System"; "The Ultimate Kick"; "Dynamic Kicking & Stretching"; and "Karate: Basic Concepts & Skills".