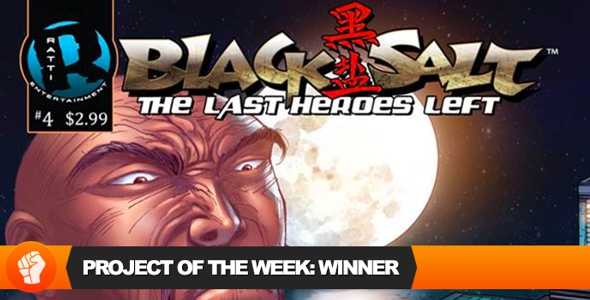 The Indiegogo campaign and live-action short film project based on a critically acclaimed comic book franchise was Black Salt IndieReign Winner of Project of the Week!
With time winding down towards world-ending devastation, the fate of mankind rests in the hands of one man… created to fill the gap left lacking with minority role models, and to make something that focusses on all the great races of the world working together to to fight a great threat… and because Kung Fu is awesome, Black Salt promises to be something not only with kick-ass fight scenes, but a breath of fresh air when it comes to protagonist stereotypes and harmonic racial undertones.
"Black Salt is a live-action short film project. With only four days left the clock ticks down towards a new world holocaust. The only thing standing in its path is Interpol's deadliest black-ops agent, Samuel Tharpe.  Sam hunts down the path of a game-changing weapon of mass destruction called the Exterminatus.  He follows hot on its trail deep into the ancient land of China where he must seek aid from the Abbot at the Shaolin Temple. An evil Yakuza master stole the Exterminatus and seeks to use it in the East. Sam must prove his worthiness by fighting one of the Temple's most skilled monks. Prepared to lay down his own life in exchange for the lives of his family and the world, Sam steps forward and engages in combat. Only his long-past training by the Shaolin master, Yu Bai Shek will make him a worthy hero."
Black Salt is over the threshold of their crowdfunding goal, but you can still be involved and help them get to their stretch goals! These include festival submissions, marketing, and even a 6th comic issue and graphic novel.
Also, if you're reading this and you're an African-American male between the ages of 33-43, and you're skilled in martial arts with some acting experience – you could be the next star in Black Salt! Click here to go to the Indiegogo page to find out more.