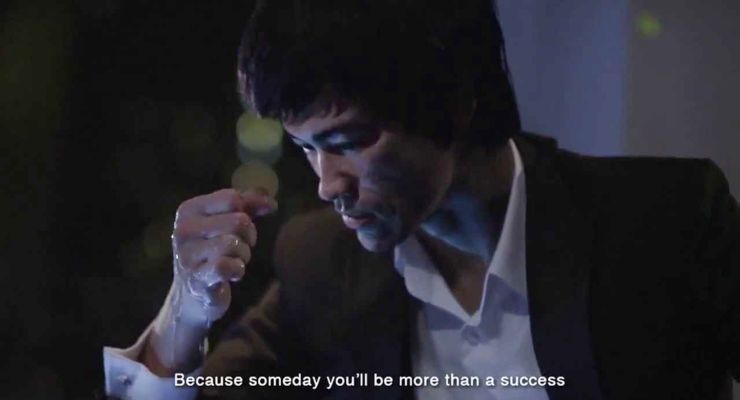 Examiner.com ~ Actor Bruce Lee died in 1973, but that hasn't people from making a Bruce Lee TV commercial, using his likeness many times since. So, it was only a matter of time until the immensely popular movie star was "brought back to life" using the most sophisticated digital imaging tools.
According to an article published by Campaign Asia on July 8, that day has come.
Lee is the "star" of a new TV ad, running now in China, but, presumably, slated to air all over the world, pushing Johnnie Walker Blue Label whiskey. That's strange enough, since Bruce Lee was a notorious health fanatic. But it's seeing the movie icon looking straight at the camera and speaking again which is really weird.
Apparently, no expense was spared in the production of the commercial. Director Joseph Kahn made these remarks on Vimeo, the video platform used to show the results to fans outside China:
Johnnie Walker "Game Changer""My good friend BBH Creative Executive Johnny Tan and I first talked about doing this concept a year ago. We shot it in Hong Kong, and then we worked with VFX company The Mill in London to create a completely CGI Bruce Lee over nine months. EVERY shot of his head and every detail in there is completely CGI. We got Shannon Lee, Bruce Lee's daughter, to come aboard and we really picked her brain to make sure that everything was accurate from look to soul. We wanted to be as respectful to the man and legend as we could."
The ad, called "Game Changer", borrows heavily from Lee's personal philosophy. Comparing life choices to the properties of running water, "Bruce Lee" has this to say in the 90-second spot, partially translated from Chinese into English:
"Dragons never die. Because dragons draw power from water. Let water flow, and it has the power to change the world. Be water, my friend."
The message is odd, considering the ad is for a liquor company. And even odder given that it's not likely Bruce Lee himself would ever have pitched an alcohol product, as he was, in life, an avowed teetotaler.
But, Bruce Lee has been dead for 40 years now, and can't speak for himself as to whether this use of his likeness is appropriate or not.
What do you think?