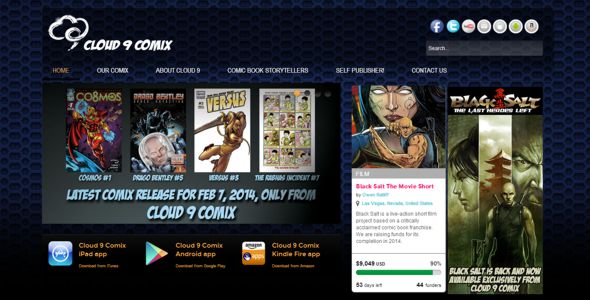 Ratti Entertainment LLC has partnered with Cloud 9 Comix to distribute the Black Salt comic book series, graphic novel and the Legend of New Shaolin property. The comics will be available on Android, Kindle Fire, iBookstore, Nook as well as a HTML based reader.
Cloud 9 Comix is relaunching their platform and will be focusing on a smaller number of awesome comics, including the Black Salt Comic Series. Cloud 9 Comix Apps are being re-developed from ground up, and they will be looking to make their comics available through other platforms such as iBookstore and the Nook in the coming months which means that Black Salt Comics will be available on all their platforms! Cloud 9 Comix new Apps include iOS, Android and Kindle Fire Apps, as well as a HTML based reader.
Cloud 9 Comix is a digital comic book publishing arm of Spectrum Pacific Publishing which was founded by Benjamin Slabak in 1996, in Sydney, Australia. Having produced and published over 30 computer games, Spectrum Pacific Publishing moved towards print publishing in 2009 and digital publishing in 2010, with Cloud 9 Comix.
We have grown up with comics, particularly the Italian Fumetti comics, and the move towards comic book publishing has been in the works since 2003. The introduction of iPad and tablet technology finally made this venture possible and the digital comic book industry has boomed since. We hope you enjoy our comics and we can't wait to bring you some more truly awesome comics from all corners of the globe.
Come join us on Cloud 9! 🙂
All-new Cloud 9 Comix for 2014! New Comics, New Talent, New Experience! Download our all-new iOS app and soon on Android and Kindle. Check out some of the best comics from around the world from some amazingly talented creators. Video produced by the super talented Michael "Frick" Weber. Come join us on Cloud 9!