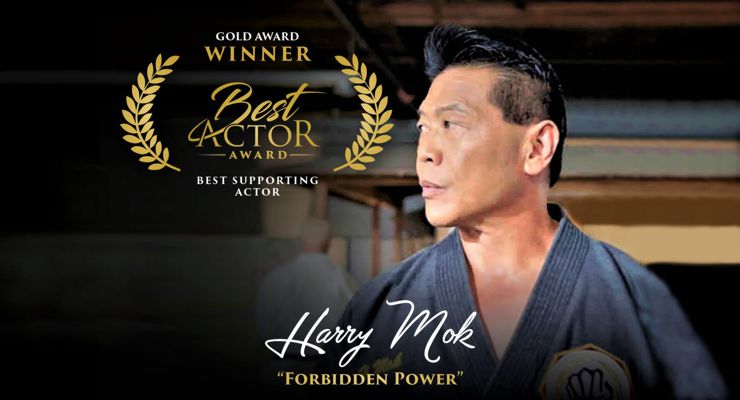 2020 Update: Forbidden Power (2018) has won 12 IMDB sanctioned awards so far and now the judges in Aosta, Italy have chosen Harry Mok, who portrays ex-con karate instructor Chang, as BEST SUPPORTING ACTOR. Congratulation Harry!!!
Update: Forbidden Power (2018) is an 'Official Selection' for the 'World Film Fair', New York, New York. "If we can make it there, we can make it anywhere." Paul Kyriaz
Our own Harry Mok co-stars and is Executive Producer of Forbidden Power (2018)!!!
Forbidden Power (2018) is an action packed Sci-Fi thriller written and directed by Paul Kyriazi (Death Machines and Ninja Busters) and starring Lincoln Bevers and by Nasanin Nuri, Hannah Janssen, Harry Mok and Eric Stayberg.
Films such as Lucy, Limitless, and The Wolfman have featured story lines where the heroes receive powers via drugs or animal bites, but now comes a fresh take on that idea … sexually transmitted power in the soon-to-be-released science fiction action thriller FORBIDDEN POWER (2018).
In Forbidden Power (2018), a young businessman, George (Lincoln Bevers), has a one-night affair with a mysterious Native American woman (Nasanin Nuri). When he wakes up in the morning, she has vanished, but she leaves him empowered with abilities that far exceed his own, and with a cryptic message. George embarks on a dangerous quest to find her and the meaning of her message and the extraordinary superhuman gift she left developing within him.
Forbidden Power (2018), the 7th feature film from director Paul Kyriazi (cult classics Death Machines and Ninja Busters), will be released on Amazon On Demand.
Paul Kyriazi is a graduate of San Francisco State University's film department and spent four years in the movie department of the US Air Force.
He has directed some 32 name actors, including Rod Taylor, Robert Culp, Adam West, George Chakiris, and David Hedison in his films as well as in his full-cast audiobooks based on his novels.
The movie is Executive Produced by Conrad Denke of Victory Studios and Harry Mok, who also produced the upcoming animated film Animal Crackers (2017) with the voices of Sylvester Stallone and Danny DeVito. It is Produced by Jan Van Tassell and Bruce Dowling.
The film was shot in wide-screen using 6K Red Dragon cameras.