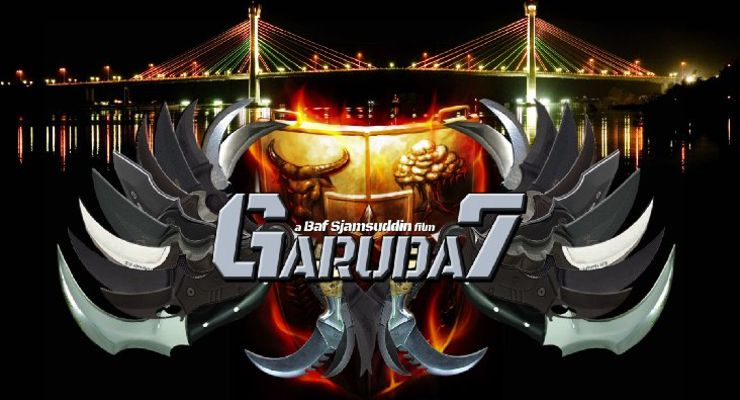 Garuda 7 (2014) is a new Indonesian martial arts action thriller directed by Baf Sjamsuddin, whose camera credits include Legend of the Wolf, and Once Upon a Time in China 2 and 3. Tanaka is the Action Director and Chief Sifu John Ladalski is the Action Fight Action Coordinator. Ladalski has worked on Jackie Chan's Armour of God as the lecherous head monk, on The Chinese Stuntman with Bruce Li and Dan Inosanto, Death Cage with Joe Lewis and Robin Shou, Blood Fight with Yasauki Kurata and Bolo Yeung, Kickboxer with Jean-Claude Van Damme and Air America with Mel Gibson.
The film stars Barry Prima (The Warrior), Willy Dozan (Crystal Fist), George Rudy, Avent Christie, Leo Chandra, Mark Dacascos, Michael Dudikoff, Ron Smoorenburg, John Ladalski, Katrina Grey, Fendy Pradhana, Dan Chupong, Kazu Patrick Tang, Pinky Savika, Leon Dozan, and Mario Christie. James Marshall is the collaborating writer with Baf Sjamsuddin.
According to IMDb, Mark Dacascos (Crying Freeman), Michael Dudikoff (American Ninja) and Dan Chupong (Born To Fight) are also in the film and a sequel, Garuda 7: The Next Mission is already planned.
Plot Spoiler:
Indra (Willy Dozan), Hans (Barry Prima), Firman (George Rudy), Haris (Leo Chandra), Thomas B (Advent Bangun), Amus (Yoseph hungan), Fredy (Johan Saimima), Henry (Baron Hermanto) and Dani (Dede Yusuf) were friends who retired from service in various state intelligence agency and military positions including BIN, the army and police.
Adisty, the daughther of Hans (Barry Prima), has been reported missing, apparently kidnapped by a human trafficking syndicate. The solidarity of Han's old friends brings them back together to help find Adisty. Dede, does not join the team as she is now a politician, and Advent has become a priest, and, unfortunately, Fredy and Henry have died. The rest of the team including Hans, Firman, Indra, Haris and Amus come back together once again to save Adisty and get caught back up int the world of action and espionage.
In Riau, an Indoneian native, Andhika (Voland Hommonggio), has found a human trafficking syndicate and manages to free some of the victims. One of the victims held by the syndicate is Hans' daughter Adisty. From Andhika, Hans gets information about his child's whereabouts.
Unfortunately, when the team arrives to save Adisty, they are unable to subdue the head of the syndicate, and instead the team becomes the target of those attepting to take down the syndicate. Mario (Lam Ting) and David (Avent Christie) who are members of the State Intelligence Agency Deputy Unity 3 (Field of Counter Intelligence) are assigned to capture Hans and the team. During this time, Andhika's Father (Gatot Bradjamusti) dies and Ernita (Anita Maerani), Andhika's sister, becomes involved trying to help the team. Making things worse, Thomas (Fendy Pradana) has defected and become part of the syndicate headed by Hendarmo (Cliff Sangra). The syndicate attempts to make the family disppear, but the family manages to notify Indra aide, Yoshi (George Taka) and he rescues the family. The family escapes, but Thomas manages to subdue Yoshi and holds him hostage.
In order to save the family and restore their good name, Garuda 7, must deal with the syndicate, now known to have been orchestrated by a well-known businessman (Roy Marten). Garuda 7 must deal with the syndicate quickly to prevent the departure of the ships carrying containers of smuggled victims including Adisty.