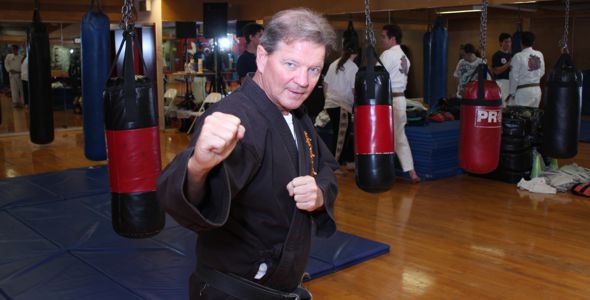 Gerry Blanck Among 8 Real-Life Champions and Masters Added To The Martial Arts Kid Cast
Gerry Blanck is among an astounding EIGHT martial arts Masters and Champions officially added to the cast of The Martial Arts Kid, co-producer James Wilson announced yesterday.
The other seven are: Bill "Superfoot" Wallace, Jeff Smith, Olando "The Warrior" Rivera, Eric Kovaleski, Rick St. Clair, Glenn Wilson and Alan Goldberg.
"From the beginning we wanted to show there is an audience and a hunger for a film with real martial artists at the highest level", says the film's co-producer James Wilson.
James Wilson says that should have been clear from the the film's inception and with the casting of action movie/martial arts legends Cynthia Rothrock and Don "The Dragon" Wilson – James's brother – as the two headliners.
"If you look at some of the big martial arts movie stars in America, some are not true martial artists and even those that are – they are not recognized Masters or Champions", James Wilson says."We wanted to rectify that and have the martial arts in the film be authentic martial arts and to have recognized Masters and Champions."
Gerry Blanck – along with the other seven names announced yesterday – certainly qualifies.
Gerry Blanck started a career as a professional kick-boxer in 1978. Four years later, he moved from had been a professional kick-boxer for about four years when in 1982 he traded one ideal beach community for another. That's when Blanck moved from Pensacola, Florida and opened his own martial arts studio in Pacific Palisades.
He won a world kickboxing title a year later, landed a few film parts in Hollywood and countless photos in magazines. Back in 2012 he celebrated his most lasting achievement with the 30th anniversary of Gerry Blanck's Martial Arts Center, still in Pacific Palisades where he's taught thousands of kids and issued hundreds of black belts.
"It's really rewarding to see so many students come back and hear what they're doing," Gerry Blanck said to the publication "Westside People" back then. "It's like being a part of their lives."
In order to earn a black belt from Blanck's studio, students must dedicate three to four years of training in the Yoshukai style of karate without any breaks. Other disciplines might require less time.
Gerry Blanck wants to make sure receiving a black belt from his school is regarded as a big honor. He feels the black belts from his school have added prestige because he makes sure his students work for every one of them.
A symbol of the rewards of hard work are also on display in other ways at Blanck's school. For example, he keeps his world featherweight title belt from 1983 behind glass in the studio's retail store where he sells everything from candy bars to punching bags. Among the piles of memorabilia, Blanck is especially proud of and held up a type of baseball card featuring karate champions with Blanck's picture and statistics on the back.
Gerry Blanck is also no stranger to film. He knows virtually every martial arts star of significance in Hollywood and has appeared in two films himself – 1992's Blackbelt and 1993's "Full Contact".
The Martial Arts Kid is set to shoot thi spring and is scheduled for a 2015 release.