Invincible Pole Fighter (1984) or 8 Diagram Pole Fighter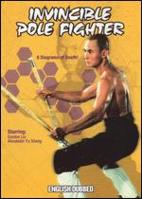 Director: Lau Kar-Leung
Starring: Lily Li Alexander Fu-Sheng
Not RatedIn Invincible Pole Fighter (1984) a heroic family is double-crossed and massacred on the battlefield. Only two brothers–Gordon Liu and Alexander Fu Sheng– survive the slaughter. Alexander Fu Sheng returns home to his mother and sisters, but has been driven insane by witnessing the slaughter of all his brothers and father. Chia-hui escapes to a monastery where his bloodlust and warlike demeanor put him at odds with the monks. The family mother (Li Li Li) sends the elder daughter (Hui Ying Hung) to look for the lost brother, but she is captured by the villains. Chia-hui eventually leaves the monastery to rescue her.