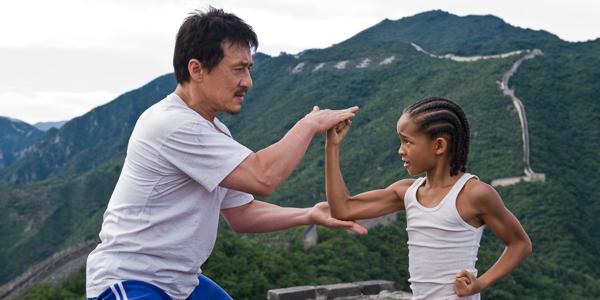 It's dubbed "Chollywood." Chollywood is China's growing film industry. Last decade, all the buzz was about Bollywood. The B comes from Bombay, the old name for Mumbai, the second most populous city in the world. Mumbai was at the heart of India's outrageous film industry, and for over thirty years India produced more films than any other nation.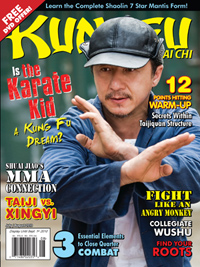 It churns out hundreds of dazzling musicals annually, dwarfing Hollywood in the sheer number of productions. Hollywood is still the world's richest when it comes to box office dollars, but now Chollywood has sprouted and is spreading like unchecked bamboo. Chollywood encompasses both Chinese-made films and Hollywood films made in China. While Chollywood makes only a tenth of Hollywood's gross, China's growth rate is so alarming in all markets, particularly in film, that if it continues at its current pace, forecasters predict it might overtake Hollywood within the next decade.
Observers mark the awakening of Chollywood's sleeping dragon with the growling "wataaaah!" of Little Dragon four decades ago. Bruce Lee, who would have been seventy this year, was the first to garner worldwide attention for Chinese cinema. Now, in the year of the Gold Tiger, another dragon is declaring China's rise as a leading world power. Kung fu megastar and stuntman extraordinaire Jackie Chan is at the forefront of the Chollywood movement. But wait. Jackie? Wasn't his last film The Spy Next Door? Even Alvin and the Chipmunks bested Spy's box office results. How could Jackie possibly be a player in the world film market? From the Little Dragon to the Succeeding Dragon, this is the story behind The Karate Kid that Hollywood isn't telling.
Spying the Dragon
It is said that a mortal cannot see the entirety of a true dragon all at once, that there's always some portion obscured by clouds. Such is the case with Jackie Chan, especially for Americans. While Jackie was promoting The Spy Next Door earlier this year, he serenaded Ellen on The Ellen Degeneres Show, channeling Elvis with a stirring rendition of "Fools Rush In." Ellen, despite being an unabashed Jackie fan, was shocked to learn he could sing.
That singing talent is no surprise to Asians as Jackie has been a major recording star there for years. His earliest schooling was for traditional Chinese opera, and he often sings for charity fundraisers. For the Beijing Olympics, where Jackie served as a cultural ambassador, he sang the warm-up anthem, "We are ready." Some 500 million people downloaded his 2009 chart topper, the patriotic ballad, "My Beloved Country" (guo jia). His latest hit, "To Welcome You Home" (jie ni hui jia), was a heartbreaking tribute to eight Chinese police officers who died in the Haiti earthquake.
Jackie Chan Logo What's more, just as Chinese know Bruce Lee as Li Xiaolong (Little Dragon Li), Jackie is also known by another name: Cheng Long (Succeeding or Becoming Dragon). He's still called Jackie too. In fact, the logo for Jackie Chan's official brand (which includes clothing, auto accessories and even designer bath towels) is a clever merging of the name Jackie into the character for dragon. Jackie's entrepreneurship is another Jackie fact that most Americans miss.
In America, Jackie is pigeon-holed as a kung fu movie star, and yet most miss the big picture there too. Few have seen more than 20% of Jackie's filmography. Jackie already had nearly forty films under his belt before the release of his first American-distributed film, The Big Brawl in 1980. Since then, Jackie has starred in a little more than a dozen Hollywood-distributed films. Meanwhile, back in Asia, he amassed nearly four dozen more films. Since 2009, Hollywood has released two Jackie Chan films: The Spy Next Door and The Karate Kid. In the same time, Chollywood released three: Shinjuku Incident, The Founding of a Republic and Little Big Soldier.
Shinjuku Incident was an unusual film for Jackie. It was a drama about illegal Chinese immigrants who become smalltime gangsters in Japan. There was no kung fu. There was action, but none of Jackie's signature comic fight choreography. Jackie portrayed a hit man who kills in cold-blood. The violence was graphic: gunfights in sewers, limbs chopped off by butcher knives and intestines spilling onto floors of abandoned shacks. In fact, the film was so violent that it wasn't released in Mainland China. As there was no kung fu, the film might disappoint some, but Jackie was mesmerizing. Critics hailed Jackie's acting performance, calling Shinjuku Incident a career breakthrough. It enjoyed a limited release on 20 American screens in February of this year.
The Founding of a Republic was a mainland production and had cameos by every leading Chinese star including Jet Li, Zhang Ziyi and Stephen Chow, as well as directors like John Woo and Chen Kaige, and many more. The film celebrated the 60th anniversary of the founding of the People's Republic of China and was dismissed by non-Chinese critics as propagandist. Nevertheless, it was a box office hit across China and a testament to the growing power of Chollywood. Jackie only had a minor role.
While The Spy Next Door summed up Jackie's Hollywood approach to kid films, both Shinjuku Incident and The Founding of a Republic showcased Jackie stepping outside of his typecast roles. It was Little Big Soldier that brought Jackie back to the kind of cinema that made him a star kung fu comedy.
The Little Big Soldier that Captured the Tiger
Hollywood has two seasonal high times for film releases: the summer rush when school gets out, and the holiday rush after Black Friday. Chollywood has another Chinese New Years in February. For years, Jackie's best films premiered in Asia during the New Year celebrations. Lately he has demurred to Hollywood's schedule. Little Big Soldier marked a triumphant return for this Year of the Tiger, pitting Jackie against Chollywood's top offerings. In a head-to-head box office brawl were two highly-anticipated kung fu films: True Legend (in 3D no less) by the world's leading fight choreographer, Yuan Woo-Ping, and 14 Blades by kung fu film's heir apparent, Donnie Yen. There were also comedies, romances, thrillers from many other major Asian stars, all you might expect during a film season rush. When the box office results came in, Little Big Soldier was only bested by Avatar. "It's been a long time since I have made a movie for a particular scheduling day," said Jackie in Chinese. "Usually, it's after we finish that the release date is determined. I can proudly say that my movies in Hong Kong, no matter when they are released, were as hot as celebrating a new year. Now in Mainland China, the market is so big that in this special period there's a lot of movies that premiere."
Little Big Soldier is a sweeping period epic with panoramic shot-on-location scenery, a rollicking buddy story full of dramatic turns, poignant surprises, comedic moments and Jackie's signature juggling-inanimate-obstacles brand of choreography. The film has been long in the making. Jackie says, "Sometimes it takes me a long time. About 20 years ago, I had an idea to make an anti-war film. I imagined that I didn't know much that I was afraid to die but still want glory that kind of little soldier. And during one battle, I accidentally capture the enemy general. On the way, the general shares a lot about survival and fighting skills. And then the little soldier gradually becomes a real warrior and would rather die and not kneel down, so the general looks at him differently."
Period war films are very popular in China now. Unlike Hollywood's computer-generated battles, China retains plenty of desolate areas where full-scale medieval battles can still be staged. What's more, it has the manpower to supply hundreds of extras. In that sense, Little Big Soldier is in the same genre as Jet Li's gritty The Warlords (2007) or John Woo's gigantic production Red Cliff, (part 1 2008, part 2 2009). Massive battles are uniquely Chollywood, and Jackie is proud of the fact that this was his "first 98% made in China film." The exception was Yoo Seung-joon, a former Korean pop star. "The rest is pure Mainland China movie. My previous films often invited overseas or Hong Kong crew people, but this film was entirely Chinese except that one actor." Little Big Soldier garnered even more critical acclaim for Jackie as an A-list Chollywood actor.
Wax on, Wax off
Karate Kid Movie Poster 2010 The Karate Kid represents the other side of Chollywood, a Hollywood film made in China. Starring Will Smith's son Jaden, The Karate Kidis a spectacular showcase of China with postcard locations like Beijing's Forbidden City, venerated Hutongs and that post-Olympic architectural wonder, the Bird's Nest, as well as atop the Great Wall and at the birthplace of tai chi, Wudang Mountain. The original Karate Kid was a classic film and spawned three sequels and catapulted the character of Mr. Miyagi to cultural icon status like Yoda in America. The franchise earned Pat Morita an Oscar nod for Best Supporting Actor and introduced Academy-Award-winning actress Elizabeth Shue and two-time Oscar winner, Hilary Swank). For the new Karate Kid, instead of Daniel Russo coming to California to find Mr. Miyagi, it's Smith as Dre Parker and Jackie as Mr. Han. The worldwide premiere is June 11, 2010, in the heat of Hollywood's summer rush.
Initially, The Karate Kid drew fire on two fronts. The first was the old "why remake a classic?" argument, an absurd critique of Hollywood. Hollywood loves to milk remakes. Brand recognition provides a shortcut in today's expensive world of marketing. While many bomb, like last year's remake of Fame, occasional blockbusters like Star Trek continue to give studios hope. This year brings a wave of '80s remakes. Alongside The Karate Kid, we will also be treated to The A-Team (starring MMA champion Quinton "Rampage" Jackson as "B.A." Baracus), Tron Legacy (outfitted by Tiger Claw) and Red Dawn (curiously re-imagined with China as the red menace).
The other front was the title. Obviously Hollywood loves to capitalize on a franchise, but karate in China? Jackie responded to English-speaking reporters by saying he thought the film would be called Kung Fu Kid in China, but that was just a face-saving answer. Ultimately, the fuss was remedied by a small writing device. Dre is dubbed "the karate kid" by one of the Chinese bullies to mock him because Dre practiced a little karate prior to his relocation to China. To pacify fans, the scene was included in an early trailer. Nevertheless, debate over the title continued to rage on the web, even got mentioned in a Wall Street Journal blog.
The Karate Kid name-game is a curious Chollywood conundrum when examined through a Hollywood lens. In China, there's no point in calling it the Kung Fu Kid because the original Karate Kid franchise has no value there. The original came out when China was just beginning to peek out from behind the Bamboo Curtain. It was released in 1984, the same year that Chinese first competed in the Olympics. Foreign films were just beginning to enter China then. Like those 70 or 80 Jackie films that were never distributed theatrically in America, The Karate Kid never played on the silver screen in mainland China. China's progress with the Olympics is but one barometer of her meteoric growth. In film, China accounted for nearly $200 million of the international gross of Avatar. That's the second highest foreign box office results of any foreign country. Only Germany grossed more.
Even if Chinese distributors bothered to evoke The Karate Kid franchise, given the storyline of the original, it's unlikely that it would be successful in China. Chinese moviegoers are accustomed to a much higher level of martial arts choreography. Their TV serials have better fight choreography than most Hollywood movies. They could care less about Mr. Miyagi and Daniel Russo. But swap Jackie Chan as Mr. Han and everything changes. At this writing, the working title of the film for Chinese distribution is Gongfu Meng (Kung Fu Dream).
Despite the Oscar success of Slumdog Millionaire, Bollywood has yet to really break through to an American audience. Couched in one of the oldest cultures in the world, Bollywood film is often too laden with its own cultural trappings to generate global appeal. Chollywood, another ancient culture, might suffer the same fate. Americans hate subtitles. However, the growing economies of Asia are tilting the markets eastward. As for Jackie, he is fluent in Cantonese, Mandarin, Japanese, Korean and English, putting him in a prime position to grab all those markets with The Karate Kid. Karate Kidor Kung Fu Dream, this film is positioned to be a major box office hit on both sides of the Pacific.
Kung Fu Dream
Little Big Soldier wasn't the only thing Jackie unveiled for the Year of the Tiger. He held the film's premiere in Beijing for the grand opening of the first Jackie Chan Theater. This is China's first major multiplex theater, a 17-screen, 3,500-seat house, the largest movie theater in China. Situated strategically nearby ample public transit in West Beijing, everywhere you look on the walls and carpet bears Jackie's Dragon logo. There are posters of his old films and a life-size mannequin of Jackie dangling from a helicopter from his 1992 flying stunt over Kuala Lumpur in Police Story 3: Supercop. Little Big Soldier showcased the largest auditorium of the multiplex. It is outfitted with a hydraulic stage for concerts, so naturally Jackie took his turn at the mic during the opening and sang Little Big Soldier's theme song, "Rape Flowers." (???) Fifteen more Jackie Chan multiplex cinemas are scheduled to open across China within the year. Each will be themed after Jackie's movies and positioned in the major metropolises like Beijing, Guangzhou and the most populous city in the world, Shanghai.
Shanghai is hot now as it is hosting the 2010 World Expo from May 1 to October 31, 2010. Martial arts showcases will be prominent there, with a 50-monk delegation from Shaolin Temple (the largest Shaolin tour ever), an unprecedented delegation of Wudang tai chi masters and swordsmen, and a special exhibit from Macao on the acclaimed martial arts novelist, Jin Yong. Just like with the Olympics, Jackie is a cultural ambassador for the Expo. Ambassadorial work is the most important to him right now. "The 2010 Shanghai Expo is the main thing," he says. "My movies work around the Expo." Over New Years (by the Gregorian calendar, not the Chinese one) Jackie dropped everything to fly to California just to participate in the Rose Parade, riding on the Shanghai Expo float. "The seat was so small, I almost cannot sit there. Good thing Yao Ming was not on that float." Yao Ming is also a Shanghai World Expo Ambassador.
What's more, on October 1, 2010 the Jackie Chan Museum is scheduled to open in Shanghai's Putuo District. Coincidentally, several Bruce Lee museums are currently in the works. There's one in his family's village in Shunde, Guangdong Province, another in his home in Hong Kong, and another in Seattle, Washington. While the latter two are struggling with funding, the Shunde museum opened in November 2008. Ironically, Lee only visited Shunde briefly when he was five. These museums elevate the Little Dragon and the Succeeding Dragon to the iconic level of Elvis's Graceland.
Beyond Jackie's theater franchise and his museum, he also has plans to create the Jackie Chan Peace Garden in Yunnan Province. With a mission to promote "Environment, Friendship, and Charity," Jackie's ultimate mission is about world peace. According to Jackie, "Every time when I watch the TV news, I see war. I see innocent people get hurt and I feel bad. What I'm really after now is peace. In the last few years, I've joined many peace-related organizations. I travelled many places and seen many heartbreaking things… You can pick up your friends, but you cannot pick up your country. If two countries fight at war, how much do you have to sacrifice before you can get back to peace? Sometimes I dream to be a Superman. If only I could take a shovel and remove the borders. If I only could take all the people, hold them in my hands, mix them up and toss them back so black, white, yellow, are all mixed up, so everyone lives together."
Jackie's Last Extreme Action Movie
Jackie's Chollywood philosophy is in stark contrast to The Spy Next Door. "These last few years, I've learned a lot," says Jackie. "I did a lot of study. And I finally understand what is responsibility… In the past, I didn't want to make meaningful kinds of films. I liked to make movies like Drunken Master and Police Story. Those are more individual movies. Now I feel I have the responsibility to deliver bigger ideas, not only simply talking about good beating bad and kindness over evil, simple ideas… You feel you have a responsibility to the people and the country, so you make meaningful films. Now I don't think I'll go back to make meaningless kinds of movies and sing soft pop songs. In the past, I had to survive. Now I'm not doing things for money. It's more for the responsibility."
Jackie's Chollywood films have evolved towards deeper moral underpinnings. Jackie says, "I did The Myth (2005) because I wanted to tell people if you rob other countries' treasures to put their treasures in your museum, this is not protection, it's robbery. In Gorgeous (1999), there's not one ashtray. There are always "No Smoking" signs in the background. And there's a lot of recycling. Once I really wanted to enter the recycled paper industry." This green approach became even more apparent with another of Jackie's entrepreneurial ventures, JCAM Advanced Mobility Company Ltd. JCAM is a Hong Kong-based vehicle distribution company that focuses on zero-emission products. Now operating in six countries, JCAM announced a partnership with Ashland, Oregon-based Brammo Enertia this March. Brammo produces The Enertia, a plug-in 100% fully-electric motorcycle that is being marketed through select Best Buy stores.
In Jackie's next project after The Karate Kid, he echoes his message from The Myth. This film, tentatively titled Armor of God 3: Chinese Zodiac, is symbolically being marketed as his 100th. It's difficult to say how many films Jackie's been in exactly. The Internet Movie Database lists 106 films at this writing, but some were minor roles or small cameos. He started his career with a long list of uncredited roles as an extra "thug." Zodiac's plot revolves around the destruction of Beijing's Old Summer Palace (Yuan Ming Yuan ???) by French and British troops during the Opium War. Zodiac refers to twelve famous statues that were looted during the attack. A few years ago, Jackie tried to recover these national treasures. "I prepared 30 million to acquire these when they came up at an auction to bring them back to China. But it sold for 100 million and I had to give up, so I was very disturbed. I wrote the screenplay within three days. Last year, I saw this news where they were up for auction again. My feelings came back, so I started to prepare this film."
Chinese Zodiac revitalizes his late '80s, early '90s, Armor of God franchise featuring his Indiana Jones-like character, Asian Hawk. It was during filming of the first Armor of God (1987) that Jackie suffered his most serious stunt accident. He took a big fall and hit his head on a rock. It left Jackie with permanent hearing loss and a small hole in his skull. Jackie says, "This might be my last extreme action movie. [Asian Hawk] is a professional tomb raider. In the beginning, he just wanted to be rich, but now he stole two antiques and returned to China. Six years ago I wanted to make this movie." Just like Karate Kidin China, the Armor of God franchise has little value in America. Time will tell if the film ever plays on U.S. screens.
The Year of the Tiger
Jackie Chan WildAid PSA With the Shanghai Expo, The Karate Kid, and so many business ventures, 2010 is a big year for Jackie Chan. Yet he still finds time to fulfill his role as one of Asia's most charitable celebrities. For the Year of the Tiger, Jackie has renewed his commitment to protect wild tigers. It's another theme subtly present in Little Big Soldier. He went to great lengths to see that no animals were harmed in the production (a lesson that more of Chollywood needs to learn). Jackie says, "In that movie, we have bears, rabbits, and turtle and little bird. In one scene, when I was with Wang Lee-Hom, we were very hungry. I grab a rabbit and discover it is pregnant, so I let I go."
Jackie supports WildAid, an international organization working for the protection of endangered wildlife. He joins over 80 other internationally-acclaimed celebrities like Yao Ming and Harrison Ford, who all lend their talents to support the cause. Just before the Chinese New Year, Jackie volunteered to participate in a new Public Service Announcement, his second for WildAid. "I understand a lot now," says Jackie. "Illegal business people lie when they say that tiger bone liquor can nourish your body. I've never drank that. I've never used anything associated with tiger products, but my body is stronger than tiger, so I plead everyone to take action and join us to protect the tiger."
"WildAid is forever grateful that Jackie Chan has used his star power for the good of the planet, and our mission, " says Peter Knights, WildAid's Executive Director. "His continued support has been fundamental to the growth of WildAid and a boon to endangered species conservation. We will continue to harness celebrity power and new media to both raise awareness about the illegal wildlife trade, and reduce demand for endangered species products. Every species lost is a blow to the health of the planet, and the health of everything inhabiting it – including us."
Written by Gene Ching for KUNGFUMAGAZINE.COM
COPYRIGHT KUNGFUMAGAZINE.COM, ALL RIGHTS RESERVED.
All other uses contact us at gene@kungfumagazine.com