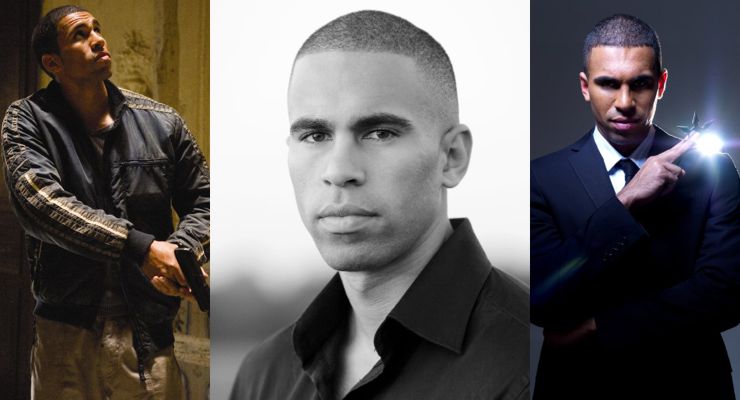 Joey Ansah Street Fighter Ninja
Joey Ansah grew up in Streatham, South London, for the first 10 years of his life. He attended private schools, first at Oakfield School and then at Dulwich College Prep. It was during these early years in London that Joey Ansah showed his interest in acting and performing and he took part in all of the stage performances possible. His almost obsessive interest in martial arts and action cinema began very young. From his earliest recollections, Joey remembers his father renting action and martial arts films from the local video shop and Joey watched them avidly. Arnold, Stallone, Bruce Lee, Jackie Chan and Van Damme became his idols and his sources of inspiration which they remain to this day.
Joey's family then emigrated to Accra, Ghana. This was initially a culture shock for young Joey. Up to this point Joey had spent most of his life in the almost exclusively white, upper-middle class environment of the English public-school system. In Accra, Joey attended Ghana's top International school for almost 5 years. During this time he was able to get in touch with African culture, and obtain a balanced understanding, love and pride for both halves of his heritage. His love for acting and stage performance pushed him to continue these activities in his new country. It was in Ghana that Joey's love for martial arts, dancing and stunts took off. He joined the local Tae Kwon Do class and trained there for 4 years. He became absorbed in Hip Hop dance at his school in Ghana. He also fell in love with motorbikes and began riding with friends – including the sons of an Australian former motocross champion
A few months before his 15th birthday, Joey moved back to Plymouth, England with his mother and 1-year old sister, Tanoa. He attended Devonport High school for boys where he completed his secondary education.
During this time Joey Ansah also began obsessively training in Ninjutsu with military personnel in Plymouth. After a brief stint high diving, Joey became very interested in acrobatics and tumbling, and began to develop this aspect of Ninjutsu to a very high level.
After high school, Joey Ansah moved to Oxford where he earned a 3 year degree in Human Biology from Oxford Brookes University. While continuing to practice Ninjutsu and Acrobatics, he also took up the Brazilian martial art of Capoeira and continues his trying to this day. During his 3 years at Oxford, Joey worked professionally in show-business, getting work and experience wherever he could.
In the first couple of years at the University, Joey Ansah did his fair share of extra and walk-on parts and he saw this as a valuable opportunity to spend time on varied film, TV and commercial sets, learning the film making process and, more importantly, watching and intently studying established actors at work. Rather than frowning upon doing extra work as many do, he viewed this as an invaluable learning period. Joey Ansah also worked as a model, both on the catwalk and in TV and print campaigns. His stunt work also began at this time, working on Batman Begins as a stuntman. In addition he worked as trainer and fight choreographer on the Sci-Fi series Starhyke (2006). Joey Ansah has also used his dance, martial arts and acrobatics for various music videos and live international shows.
After graduating from the University, Joey Ansah moved back to London and landed a major role in the award winning UK Indie film, Lovestruck (2005). Following that he got an agent and began his full time acting career. Over the years he has been working consistently in a varied range of TV and film projects. His notable TV appearances include the terrorist Abbud in the hit TV show Spooks (2005) (MI5 in the United States), Roman emperor Geta in the prime time BBC docuseries Timewatch (2006). In 2006 Joey landed a major role in the ground breaking UK action Feature 'Underground'. His big Hollywood break came with him being cast in the Bourne Ultimatum (2007) by award-winning director, Paul Greengrass, in which he plays 'Desh', a Blackbriar super assassin working for the CIA who goes up against Jason Bourne (Matt Damon). Joey played Aldan in Snow White and the Huntsman.
Joey Ansah's Street Fighter live-action series was announced at San Diego Comic-Con 2012.
Street Fighter: Assassin's Fist, the brain-child of Joey Ansah, was being brought to the screen by the core team behind the hugely successful fan movie Street Fighter: Legacy.
Currently Joey Ansah is starring in the TV Series Street Fighter: Assassin's Fist.
A montage of clips and scenes showcasing some of the highlights of his acting career, with an action packed finale. For more, visit: joeyansah.com