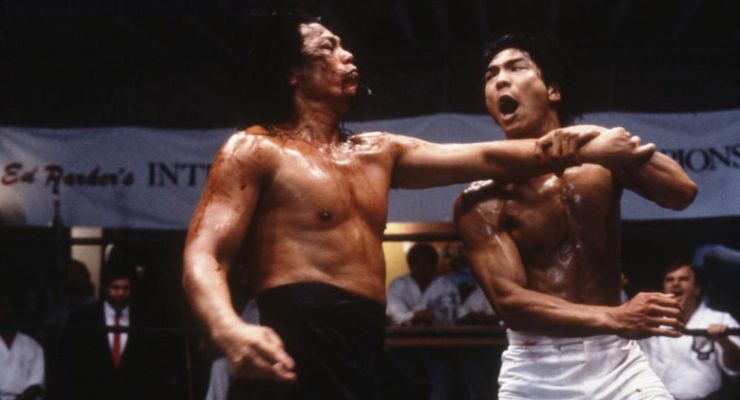 Martial artist John Cheung was born on July 11, 1957 in Hong Kong. He is a stuntman, action actor, choreographer and film director who has shared the screen with many of Hong Kong's and Hollywood's action stars. He has worked for all the major studios including Shaw Brothers and Golden Harvest as well as with independent film companies like Goldig. He is known for his fight choreography work on numerous of the Ninja films with Director Godfrey Ho. He has also had the good fortune of appearing in a handful of Hollywood productions and served behind the camera as an action choreographer; bringing Hong Kong's unique brand of action design to America, on films like Rob Cohen's Dragon: The Bruce Lee Story (1993).
John Cheung is also known for his work on Kickboxer (1989), Double Impact (1991), Bloodsport (1988), and Police Story 2.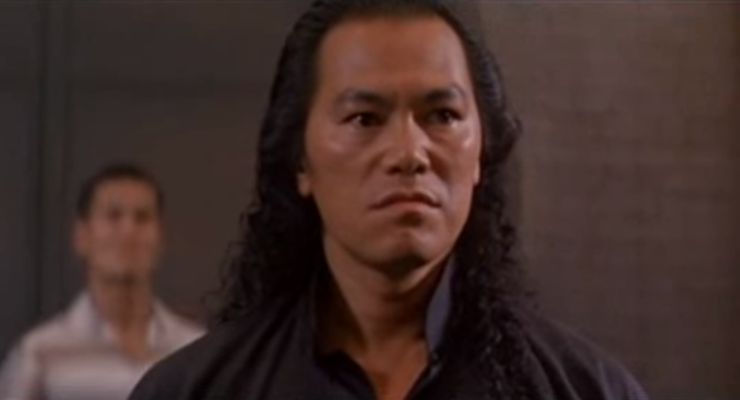 Mr. Cheung was kind enough to consent to an interview about his lengthy and varied career, and I thank him for his time.
Venoms5: Can you tell me about your childhood, when you became interested in martial arts?
John Cheung: I loved physical activities when I was a kid. I enjoyed mountain climbing, swimming, any kind of field sport. I was influenced by many people I knew who were studying different styles of Kung Fu. Back in those days I trained in Nanquan Sanda (Southern Fist) for physical fitness. As a young kid I was able to pick up the various styles very quickly and even used them to protect others.
V5: At what point in your life did you decide to become a film star and who was your biggest influence in getting into the film industry?
JC: When I was in elementary school back when we only had a B/W television… no color. I would often see Kung Fu action films of Wong Fei Hung. When i was sixteen or seventeen, I loved the Shaw Brothers action movies. David Chiang and Ti Lung were my idols at that time.
V5: Do you recall your first film role and how you got the part?
JC: SPRING COMES NO MORE (1974) starring Nancy Kwan was my first film work after I graduated from Shaw Brothers Training School in 1971. Director Liu Fang Gang was my teacher and he hired me for the picture.
V5: You were also a fight choreographer. Do you remember your first job as a fight director and what that experience was like?
JC: My first time choreographing fights was on MOUNTAIN TIGERS (BRAVEST FIST [1974]). Chan Wai Man was the main actor, but he arranged for me to choreograph the fights in the film. He's a very good actor and fighter. He and I worked well together. He had no trouble performing the action I designed for him; but Mr. Chan also had his own ideas that made his fighting style look better onscreen.
V5: Did you ever have a time where you were dissatisfied with your work due to time or budget constraints?
JC: The shooting problems were a lack of money for production costs. Other than that, I usually handled my work promptly, never going over-budget, nor working overtime.
V5: How did you get on at Shaw Brothers? Were you allowed to make films elsewhere or were you exclusive to the studio at that time?
JC: When I finished studying at the Shaw Brothers Training Facility I was offered a contract of $500 a month for five years. I didn't sign the contract and worked as a freelancer instead.

V5: How did CLEOPATRA JONES AND THE CASINO OF GOLD (1975) come about?
JC: I went back to Shaw Brothers in 1975. One day, I was near the makeup room and the director, Chuck Bail, saw me. I didn't know who he was at the time, but he liked my body shape and my looks and sent someone to ask me to go to the casting director. They had me read some lines in English. Mr. Bail liked me very much. He gave me a great opportunity. I really appreciate him giving me a chance to be in a Hollywood picture. To be so early in my career, I never thought I would be in such a prestigious production.
V5: At Shaw Brothers you worked mostly with Lau Kar Leung. Can you tell me about working for him?
JC: Lau Kar leung was my sifu. It was he who hired me for EXECUTIONERS FROM SHAOLIN and THE 36TH CHAMBER OF SHAOLIN. Back in those days, Lau sifu asked me to train Lau Kar Fei (Gordon Liu) to stay in shape; in return Lau Kar Fei would teach me Hung Gar Tiger Crane. We worked very well together.
V5: When you left Shaw Brothers you began getting lead roles. Was this a reason for leaving the studio?
JC: About 1976 I had already joined TVB and signed a contract as an actor. I was only a freelancer at Shaw Brothers and never signed with them. I did later sign with Goldig Films and made a total of eight movies where I was the lead character.
V5: Did you ever work on a film without a script or a production where the script changed daily?
JC: We always had scripts, but back in those days, they would often change. For example, export markets would require additional scenes so we would change the scripts for those markets–Europe among them. This was a problem for the movie companies in those days, but the foreign audiences–like the Americans and the Europeans–really liked our action movies.
V5: One of your more interesting lead roles was in WRITING KUNG FU (1979). Can you tell me about making this movie and being directed by Bolo Yeung?
JC: My little brother, Johnny Cheung, is in this movie with me and Bolo. He was also an action choreographer for Jackie Chan and was a stunt double doing dangerous scenes for Jackie and other actors. The action design in WRITING KUNG FU was done by me, my brother, and Bolo, who also directed the movie.
V5: How was making films at Goldig compared to other independent companies?
JC: I made eight movies for them, and each one had its own characteristic. SNAKE IN THE MONKEY'S SHADOW (1979) and TWO WONDROUS TIGERS (1979) were successful pictures. KUNG FU MASTER NAMED DRUNK CAT (1978) was a very funny comedy movie! Candice Yu On On, who is in this movie with me, was Chow Yun Fat's first wife. Back then Goldig was a top movie company in Hong Kong. Chow Yun Fat started out there. He and I made THE HUNTER, THE BUTTERFLY AND THE CROCODILE (1976) for them. Yuen Woo Ping's father, Yuen Siu Tien, he and I worked together on KUNG FU MASTER NAMED DRUNK CAT. He was also my half master. Many years ago he did Wong Fei Hung pictures for TVB. He taught me how to use the Red Tassel Spear (Hung Ying Qiang).
V5: You worked with Wilson Tong a few times where he was action choreographer.
JC: I made two movies with Wilson Tong designing the fights; these were SNAKE IN THE MONKEY'S SHADOW (1979) and DUEL OF THE BRAVE ONES (STRUGGLE [1980]). The former was the more interesting of the two. You know the scene where I am watching the monkey and snake fighting? The film company had purchased a monkey and a snake so they could fight on camera. Just like in the movie, I watched the movements of the monkey, his survival instincts, and applied them to my own techniques and they turned out well onscreen.
V5: What about Hau Chiu Sing who played your master? He did very few movies in the industry.
JC: Master Hau is from Mainland China. We worked together very well and his Drunken Fist is good. I liked him. He was a very nice, very good man.
V5: You did one movie with Hwang Jang Lee, EAGLE'S KILLER (1981). Can you talk about that one?
JC: We began shooting that around 1979 or 1980. Master Hwang is a Korean, a Tae Kwon Do fighter. He's very powerful. I enjoyed working with him, although it was painful at times! We shot that one in the summer time. The heat was scorching and we were fighting hard towards the end to finish it and make it look good. The film made a lot of money so the boss was very pleased. We were also happy so we forgot about how difficult it was making it (laughs)!
V5: With so many real martial artists in the industry at that time were there ever rivalries among your group?
JC: None that I recall. Back then we were all working extremely hard to do good work in the industry. So any rivalry was limited to making the best movies possible. As long as the audience was happy, that was what was important to us; and back then there were so many action movies to choose from!
V5: You were action director on those ninja movies for Godfrey Ho and Joseph Lai. Do you recall anything about them at all?
JC: I met Godfrey Ho at Cannes Film Festival in 1986. While I was there we talked about filming a movie together. When we returned to Hong Kong I helped them shoot about 20 movies.
V5: How was it working with foreign actors like Richard Harrison, Stuart Smith and Mike Abbott? Did you ever double as a ninja in any of those films?
JC: I only designed the fighting scenes in those movies. It was nothing but a positive experience for me working with them, and Godfrey Ho as well. It was a lot of fun working with those those guys. I always took them out for tea.
V5: You were also working with Jackie Chan on some of his most successful films at Golden Harvest around this time.
JC: Back then it was decided there would be a new style with Jackie Chan–a variety of action styles including hazardous maneuvers, a lot of property destruction, and lots of comedy. Of course, his movies became extremely popular. My brother, Johnny Cheung (Zhang Hua) was behind the scenes working on several of them.
V5: You reunited with Lau Kar Leung on TIGER ON THE BEAT 2 in 1990. Can you discuss this picture and also working with Conan Lee?
JC: Master Lau Kar Leung shot this movie very well. He was very creative on this production. At that time, I had a good working relationship with Conan Lee. A hard worker. Unfortunately, he got severely injured doing that jumping stunt onto the light pole.
V5: You did some Hollywood movies with Jean Claude Van Damme on BLOODSPORT (1988) and DOUBLE IMPACT (1991) and DRAGON: THE BRUCE LEE STORY (1993). What is your opinion of American martial arts movies at that time?
JC: I worked with Van Damme on three films, BLOODSPORT, KICKBOXER and DOUBLE IMPACT. I can say that, had he not shot those films in Hong Kong, no Chinese people would have helped him, and maybe he wouldn't be successful today. On DRAGON, I was one of Jason Scott Lee's trainers. I had my brother and our stunt team on that picture. Hong Kong action, martial arts and the stunt work is the best in the world. American martial arts movies of that time could not compare.
V5: You've worked with so many famous stars in the industry. Would you care to talk about any of those you've worked with over the years?
JC: All Hong Kong actors, from all various genres, we all live under the same sky. We all try to make a better future for Hong Kong while trying to let the worldwide audience know our tiny Hong Kong is the Pearl of the Orient. There has been no one before or since like superstar Bruce Lee. Bruce Lee influenced the entire world with his Kung Fu movies. One of my earliest jobs as stuntman was on Bruce's ENTER THE DRAGON (1973).
V5: Like many of your colleagues you have directed a movie, as well as writing and producing on TREASURE HUNTER (2000). What was the experience like for you?
JC: I lived in Los Angeles for a few years, between 1995-1998. I also worked on some foreign films during this time. I returned to Hong Kong in 1999 and made TREASURE HUNTER! The story was my own, but I hired Xu Guang Tong to write the screenplay. My younger brother was the producer and action director. He also is an actor in this picture. We shot a lot of underwater photography, some in the ocean. We didn't use any computer graphics to enhance these scenes. All the underwater scenes were real as I am a diving expert with the US NAUI (National Association of Underwater Instructors). I am a three-star coach with the Chinese National Diving Association; so I am also a director of underwater photography! Prior to this in 1989, it was me who designed all the underwater action stunts in Stephen Chow's WHEN FORTUNE SMILES (1990). In the old days there was nobody who could do that in Hong Kong. I was the first Chinese who could do underwater action, stunt fighting, design and photography.
V5: Looking at the Hong Kong action industry today, how does it compare to the old days? Do you think it's better in some ways and not so in others?
JC: Today in 2016, the HK action movie industry is fading because the Hong Kong government does not properly support it; so some actors went to Mainland China to further their careers. It's not impossible, though, to return Hong Kong movies to its former glory. However, we have to work hard and put a lot of effort into doing that!
V5: Looking back on your career what work are you most proud of and is there any film you worked on you wish you hadn't accepted?
JC: When I think of the past, I was a leading actor once upon a time–between 1976-1980. Sometimes I was shooting three to four films all at the same time; shooting three to four end fights all at the same time. That kind of pain I cannot say for others. At that time in Hong Kong we were filming in the New Territories. We would film action scenes from sunrise to sunset every single day. You can imagine the physical exhaustion! There were no computers then. I didn't have many stuntmen working with me so I had to handle all the action by myself! I remember one morning a member of the film staff called me at home saying, "We are waiting outside to pick you up to drive you to the set". After many days of filming fighting scenes I was so fatigued and in pain and all I could think about was how badly I no longer wanted to be the main actor (laughs)!
V5: What are you doing nowadays and do you think about returning to the industry?
JC: To all my fans, I can say I am back! I am ready to return in a big way! At the moment I am designing large stuntmen diving projects in Mainland China. I have also written a script for a new movie! Please wait and see what the future holds! I wish everyone to be in good health and I will see you all again!
I would like to once more thank Mr. Cheung for taking the time to do this interview. I wish him continued success and all the best in his future endeavors.
***An immense thanks to actor/martial artist Ron Hall and musician Mr. J. Cheung, John Cheung's godson, for setting up the interview; and to Dan and June for translations***
Pat Morita would later land a job with an aerospace firm, but in his early thirties, Morita abandoned his corporate career to pursue a career as a comedian. He struggled in the nightclub circuit for many years as a stand-up comic known as the "Hip Nip". He made his first on-screen appearance in Thoroughly Modern Millie (1967).
By Venoms5 on http://www.coolasscinema.com