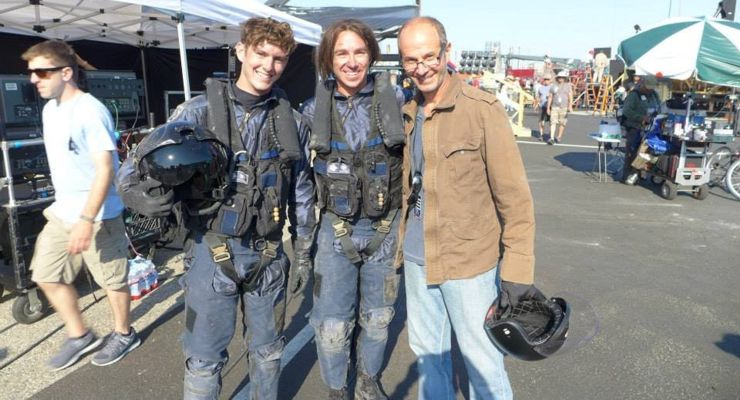 Justin Sundquist, Stunt Coordinator for MacGyver, was seriously injured on the set of the CBS series.
Justin sustained a head injury when he fell off a moving vehicle while performing a stunt. As the stunt Coordinator, he would normally be the person on set responsible for the safety of the stunts.
In a statement made on Wednesday by CBS TV Studios, "We have learned about an injury to stunt coordinator Justin Sundquist that occurred late Monday on the set of MacGyver in Atlanta. The production team is cooperating with the authorities investigating the accident, and our primary concern at this time is Justin's health and well-being."
Justin Sundquist was conscious after the accident, but was put in a medically induced coma as a result of the seriousness of the head injury and he remains in the hospital.
Justin was hurt on the set of another one of the network's shows, Hawaii Five-0 when he was hit by a car during a stunt due to what he felt was a "series of reckless, negligent mishaps," including "a rushed, hectic set," "lack of safety meeting and clear safety instructions" and "turning a blind eye to controlled substance abuse by key safety personnel."
Justin Sundquist has worked in television and film as a actor, stunt player,  stunt coordinator, 2nd unit director and more for almost 20 years. He is currently known for his work on Captain America: Civil War (2016), The Fate of the Furious (2017) and Vantage Point (2008). He was stunt double for Alex O'Loughlin in Hawaii Five-O, stunt double for Tom Hiddleston in Kong: Skull Island (2017) , and the stunt double for Sebastian Stan who played Bucky Barnes/Winter Soldier in Captain America: Civil War (2016).
According to Heroeswiki.com Justin Sundquist was a stunt double for the films The Mysteries of Pittsburgh (2008), Mr. Woodcock (2007), Say It in Russian (2007), and the television show Drive. Justin also did stunts for the films Flags of Our Fathers (2006), The Fast and the Furious: Tokyo Drift (2006), Poseidon (2006), Fun with Dick and Jane (2005), The Island, Herbie Fully Loaded, The Longest Yard (2005), Star Trek: Enterprise (2001), Training Day (2001), Battlestar Galactica (2004), Pearl Harbor (2001), and Minority Report (2002); he did stunts for the television shows Close to Home, 24, Six Feet Under, Ghost Whisperer, The X Files, Cold Case, and Buffy the Vampire Slayer. Justin did work on commercials for Burger King, Pepsi, Coca-Cola, Sprite, Miller Lite, Budweiser, and Honda; he also did work on music videos for 311 and Marilyn Manson. Additionally, Justin had small acting roles in Star Trek: Enterprise, The Drew Carey Show, and Vantage Point; he was the second unit director and stunt coordinator for Pig Hunt (2008).
Justin's injury in Atlanta comes only a year after stuntman John Bernecker was killed there while working on the set of AMC's The Walking Dead.
Deadline first reported the news of Justin Sundquist's injury on the set of MacGyver.