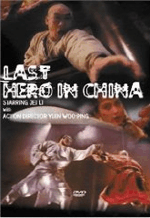 Directors: Jing Wong, Woo-ping Yuen
Writer: Jing Wong
Stars: Jet Li, Sharla Cheung, Dicky Cheung
In Last Hero in China (1983), Jet Li reprises the role of Wong Fei-hung, a legendary figure in China. Both a doctor and a teacher of martial arts, Wong has just moved his school in Canton, only to discover that the neighboring house is a brothel. Though Wong's students are delighted and the earnest brothel master only wants to study with him, Wong feels he has lost face. But this becomes the least of his troubles: soon he's fighting a corrupt police chief, a temple of slave-trading monks, and a deafness-causing medicine sold to children–and that's just in the first hour.
Last Hero in China is a grand melodrama, featuring exaggerated heroes and villains, goofy humor, and hyperbolic kung fu action. The plot takes some hard-to-follow turns, but the action is so nonstop it hardly matters. The lion vs. centipede dance/fight has to be seen to be believed, to say nothing of the priest with a floating lotus chariot and a flying claw. Jet Li is in fine form, Gordon Liu (as the venal top cop) is maniacal and despicable, and the lovely Cheung Man plays an expert martial artist looking for her kidnapped sister. The character of Wong Fei-hung also appears in the Once upon a Time in China series (where he was first played by Li) and in Jackie Chan's Drunken Master movies.