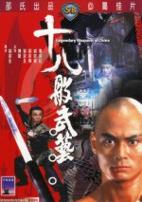 Director: Lau Kar-leung
Writers: Tai-Heng Li (scenario), Chia-Liang Liu (scenario)
Stars: Yung Chan, Tiet Wo Chu, Sheng Fu
Not Rated
Tradition has 18 weapons in the Chinese martial arts and these weapons are revealed in a series of duels between key characters in Legendary Weapons of China (1982).
A nationalistic clan tries to use their kung fu to block bullets, but it has proven to fail. An expert in the clan disbands the part under his control, and now the rest of the clan is after him. This expert is skilled in all 18 legendary weapons of China, so the order is to kill anyone who is associated with the 18 weapons. But how can they find the real expert, who has now escaped to Canton, when there are millions there?
Buy Legendary Weapons of China (1982)