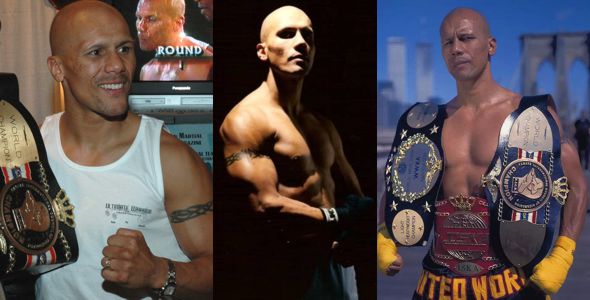 Talk about taking lemons and turning them into lemonade.
Olando Rivera has been an elite kick boxer for years and his accomplishments are extraordinary. He dominated the world of kick boxing like few others, earning the nickname "The Warrior".
However, Rivera, recently cast in "The Martial Arts Kid", wasn't always one of the most intimidating people on the planet.
In fact, hard as it is to believe, Rivera was bullied as a child.
"I was raised in the ghetto and at age 9, I was enrolled in Tae Kwon Do because my mom was tired of me coming home from school crying because I got beat up", Rivera says.
So one of the most impressive martial arts and kickboxing careers began in Brooklyn, when the 9-year-old Rivera began training in Tae Kwon Do.
When his young career was temporarily put on hiatus because his family could no longer afford his training, Rivera was determined to find a way to raise the necessary money himself and by the time he was 13 he was training yet again.
Since then, "The Warrior" has never looked back on his way to the top of both the kickboxing and boxing worlds.
Rivera is a five-time world champion super light heavyweight kick boxer, holding titles in the ISKA (International Sports Karate Association); KICK (Karate International Council of Kickboxing); WWKA (Worldwide Karate Association) and PKF (Professional Kickboxing Federation). He also unified his division for the first time in kickboxing history.
He went 32-3-1 in his career and at the relatively tender age of 35, became the youngest person ever inducted into the World Karate Union Hall of Fame.
Last month, Rivera became one of eight martial arts Masters and Champions officially added to the cast of "The Martial Arts Kid" in one day.
"As far as I know, my role is to play myself,a five-time World Champion Kickboxer", says Rivera of his role in "The Martial Arts Kid".
He says joining the cast of the film – which is co-headlined by martial arts/action-movie legends Cynthia Rothrock and Don "The Dragon" Wilson – is appealing to him because they are using so many accomplished, authentic martial artists in producing it.
"Traditional martial arts, it's my roots", Rivera says. "So being part of this movie is going to be amazing".
He says being able to work with Rothrock and Wilson gives him a special feeling.
"I am honored to be working with them", he says. "I always felt like a diamond in the rough and (that) with the right team I could shine like the star I was born to be. I'm just so honored that… Don and Cynthia see me as their equal."
"The rest of the crew are new to me, but I feel honored to work with them as well", he adds.
"The Martial Arts Kid" is starting filming this spring and is scheduled for a 2015 release.