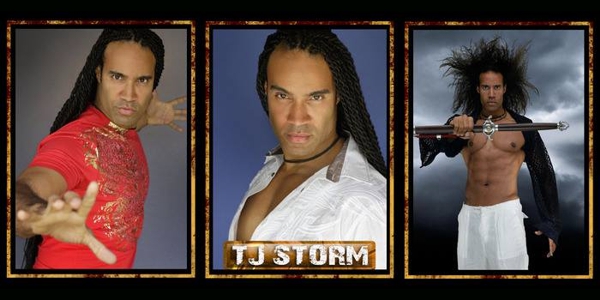 TJ Storm by any measure has had a successful career in Hollywood.
Best known for his roles in "Punisher: War Zone", "Mortal Kombat", "Black Cobra" and "Bloodrayne", Storm has also been part of huge films like "Avatar" behind the scenes.
But Storm says being part of the cast of the upcoming "The Martial Arts Kid" – which is scheduled to start shooting next month – is special.
Why? Because in "The Martial Arts Kid", Storm – who will be playing Tron, the martial arts teacher audiences will be rooting against – will enable Storm to share scenes with Don "The Dragon" Wilson and Cynthia Rothrock (who co-headline the film)!
"In 'The Martial Arts Kid', I'm going to be working with some of the people I grew up watching, like Cynthia Rothrock and Don Wilson and THAT is awesome!", exclaims Storm. "It's just – you get to live your dreams and not too many people can honestly say that and mean that and have fun doing what they're doing."
"So I don't need much motivation", Storm adds. "I think it's just acting – that's what motivates me."
However, Storm feels acting in a film with legends Rothrock and Wilson will be beyond the fun he would have on a regular film.
"it's unreal", Storm says. "I mean, you can't even imagine…when you're a kid (and) you're watching these guys onscreen. They've both done a HUGE number of movies."
"I remember trying to copy – there's a thing called the 'Scorpion Kick' that Cynthia Rothrock was famous for", Storm continues. "She used to do it all the time. We used to try to do it, fooling around, growing up."
"It's when you grab a person – pull the front, grab the lapels and you bend over and try to bring (them) down with you and you kick up over your own back and try to kick them in the top of the head", Storm explains. "So I had to try that kick all the time – and almost tore my stomach muscles." (laughter)
"But now, you turn around and she's there and you're like, 'Whoooah!", Storm exclaims. "As a kid, you really wanted to do it (and) it's awesome to have the chance to work with these guys."
"Don 'The Dragon' Wilson? He is..an 11-time kickboxing champion in three weight divisions", says Storm. "He's a monster of kickboxing. He's a true sportsman AND he's a movie star as well."
"He's a great guy", Storm says of Wilson. "When we hang out with him, he tells the coolest stories..(about how) he hung out with Charlie Sheen and all those guys and he hung around with the Rat Pack and he's also got great stories about his fighting days (and) his movie star days and to get a chance to work with him is an honor."
"They're both awesome", Storm concludes. "They can fight, they're fun to be around and they're funny to listen to."
"The Martial Arts Kid" is scheduled to be released in theaters in 2015.