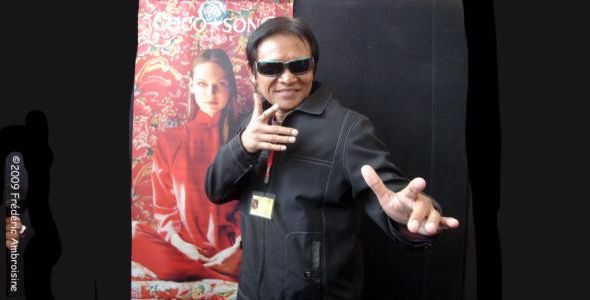 Panna Rittikrai was the director and star of the Thai action classic Born to Fight. He could be credited as the man who single-handedly kick-started the trend of action cinema in Thailand. The Born to Fight film served to inspire future action superstar Tony Jaa of Ong-Bak and Tom Yum Goong fame to learn to fight. It also paved the groundwork for a collaboration between Panna Rittikrai and Tony Jaa that would propel the two men into the international spotlight.
Panna Rittikrai was born in the small village of Khon Kaen in Thailand. He began studying Muay Thai at an early age and as a fan of martial arts films, it was his dream to become involved in the martial arts industry. During his college years, he formed his own stunt team, the Seng Stunt Team, which would consist of 20 members.
Rittikrai got his start in the Thai film industry as a stuntman at Coliseum Films. His first assignment was to train action starlet Sureewan Suriyong in kung fu for the film Petch Tud Yok. That position eventually led to a job as a stunt choreographer for the film Phayakyeegey, and it wasn't long, 1978, before Rittikrai was stepping behind the camera to direct his debut feature, Born to Fight. He also assumed a starring role in this film. It was Born to Fight that had a life-altering effect on a young boy named Panom Yeerum. Panom father gave him permission to seek out Rittikrai and pursue his dream of becoming a martial arts film star. Yeerum eagerly sought after his goal and would later be known to the world as Tony Jaa.
The 1994 action film Spirited Killer was Rittikrai and Jaa's first collaboration. It was filled with impressive fighting but it didn't break any new ground stylistically and it failed to reach a widespread audience. Fortunately for action fans, the pair didn't give up easily, and nearly a decade later they resurfaced with the breathtaking Muay Thai masterpiece Ong-Bak. Rittikrai served as writer and fight choreographer for the film. Ong-Bak offered fight scenes that felt stunningly real and more than a little bit dangerous and this was a brutal breath of fresh air in a genre increasingly dominated by computer-generated animation. In 2004 Rittikrai did directorial work on The Protector and a remake of his own Born to Fight then prepared for Ong-Bak 2 which came out in 2008.
Panna Rittikrai made over 50 low budget, stunt-filled films. He gained recognition throughout the world after the success of Ong-Bak in 2003. He also directed a remake of his first film, Born to Fight, starring Thai national athletes and another one of his proteges, Chupong Changprung. aka Dan Chupong. Rittikrai recently worked with Tony Jaa on Tom Yum Goong and the third Ong Bak film and he has other projects in the works as he is an internationally-known action director.
Panna Rittikrai, Thai actor, stuntman, fight choreographer, producer and director, died in a Bangkok hospital on Sunday, July 20, 2014 from acute renal failure following a short battle with liver disease. He was only 53.
BKO: Bangkok Knockout
2010 Ong Bak 3
2008 Ong bak 2
2004 Born to Fight
2004 The Bodyguard
2001 Kon dib lhek nam pee
2001 Nuk leng klong yao
1996 Puen hode
1994 Plook mun kuen ma kah 4
1984 Gerd ma lui
Stunts (9 titles)
2008 Ong bak 2 (action supervisor)
2008 Chocolate (fight choreographer)
2006 Mercury Man (stunt coordinator)
2005 The Protector (stunt coordinator)
2003 Ong-bak (stunt coordinator, stunt driver – uncredited)
2001 The Legend of Suriyothai (stunt coordinator)
1996 Mission Hunter 2 (martial arts)
1989 Tian shi xing dong III mo nu mo ri (stunts – uncredited)
1984 Gerd ma lui (action coordinator)
Actor (7 titles)
2010 BKO: Bangkok Knockout
2006 Dynamite Warrior Nai Hoi Dam
2003 Ong-bak Villager (uncredited)
1996 Mission Hunter 2 Zombie
1996 Puen hode
1994 Plook mun kuen ma kah 4 Spirited Killer
1984 Gerd ma lui Tong