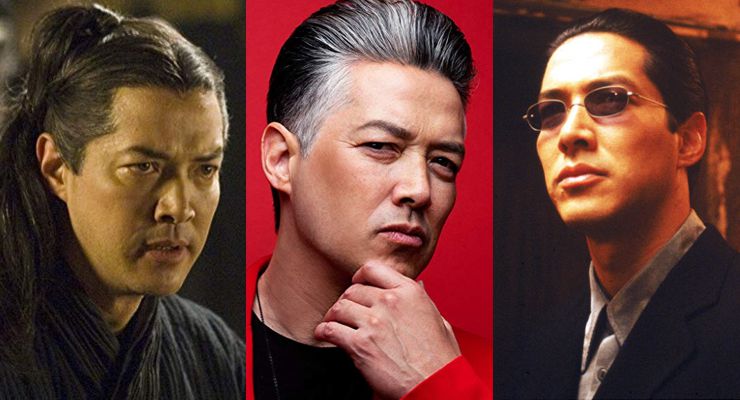 American actor and martial artist Russell Wong is known as a charismatic leading man and a skilled as actor. He is a former dancer who trains in tae kwon do, shoji ryu karate, and fu jow pai kung fu.
Born on March 1, 1963 in Troy, New York, Russell is the sixth of seven children born to restaurateur William Wong and Dutch-American artist Connie Van Yserloo. When Russell was seven years of age, his parents divorced, and he moved with his mother to California, settling near Yosemite. Russell attended Santa Monica College. A trained dancer and martial artist, Russell performs many of his own stunts.
Hi film debut came in James Clavell's Tai-Pan (1986). He made a memorable guest appearance on the drama series 21 Jump Street (1989) and won a leading role in Wayne Wang's acclaimed independent romantic comedy Eat a Bowl of Tea (1989). Supporting roles in China Cry: A True Story (1990) and New Jack City (1991) followed. Russell gained critical acclaim for his outstanding performance in The Joy Luck Club (1993).
Russell scored the leading role in the made-for-TV movie Vanishing Son (1994) produced by Rob Cohen, where he played a Chinese political activist exiled in America. The show saw three sequels, and was later spun off into a syndicated TV series. In 1995 People magazine named him one of the "Fifty Most Beautiful People".
Russell worked in major film roles with Takedown (2000), co-starring Skeet Ulrich, and Twisted (2004), with Sam Jackson and Ashley Judd. His breakthrough performance came after he starred opposite Jet Li in Romeo Must Die (2000).
Russell was next seen in this The Mummy: Tomb of the Dragon Emperor (2008) directed by Rob Cohen, as well as Dim Sum Funeral (2008) a black comedy co-starring Bai Ling and Kelly Hu. He stared alongside Ving Rhames in the martial arts thriller Unshakable (2009).
Wong continued to appear in numerous TV series like Nikita (2010) and Hawaii Five-0 (2012). He was in HBO Asia's Serangoon Road (2013).
Russell Wong was involved with a number of films shot in Asia or China, reuniting again with Wayne Wang for Snow Flower and the Secret Fan (2011) and as Peter in the Chinese language remake of the film What Women Want (2011), starring Andy Lau and Gong Li.
Wong played Roy Chan in the HBO Asia mini series, Grace (2014), which was shot in Singapore and was directed by Serangoon Road co-director Tony Tilse. He plays Wu Zhang in Escape Plan: The Extractors (2019) with Dave Bautista and Sylvester Stallone.