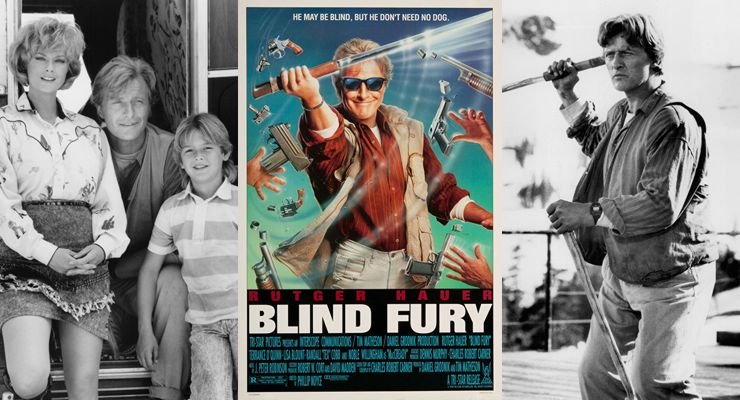 Blind Fury (1989) is an American samurai action comedy film written by Charles Robert Carner, who also wrote Gymkata (1985). Blind Fury (1989) is directed by Phillip Noyce and is a loosely modernized remake of Director Kenji Misumi's Zatoichi Challenged (1967), the 17th film in the Japanese Zatoichi film series.
While serving in Vietnam, American soldier Nick Parker (Rutger Hauer) was blinded by a mortar explosion. He was rescued by local villagers who helped him recover, and although he remained blind, he was trained as an expert swordsman who had mastered all his other senses.
Years later, Nick Parker returns to the United States and visits Frank Deveraux (Terry O'Quinn), an old army buddy, only to find that Deveraux is missing. Parker meets Frank's son Billy (Brandon Call) and his mother Lynn (Meg Foster), who is Frank's ex-wife. Minutes later, Frank's criminal boss, Claude MacCready's (Noble Willingham) and his henchman, Slag (Randall "Tex" Cobb) arrive at the house with two corrupt police officers who plan to kidnap Billy to use as leverage over Frank. Nick stops the kidnapping and the officers are killed. Billy is knocked unconscious, but Slag mortally wounds Billy's mom and then escapes. With her last words, Lynn asks Nick to take Billy to his father who lives in Reno, Nevada.
Director: Phillip Noyce
Writers: Ryôzô Kasahara (earlier screenplay), Charles Robert Carner (screen story and screenplay)
Stars: Rutger Hauer, Terry O'Quinn, Brandon Call
Sword Fight Coordinator: Steven Lambert
Dick Ziker: Stunt Coordinator
Blind Fury (1989) was released in the United States in March 1990.