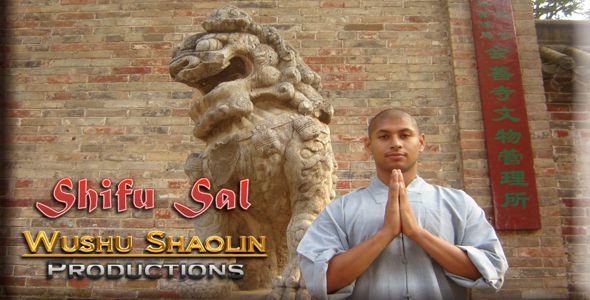 Shifu Sal Redner began studying Jeet Kun Do at the age of 8 in a local YMCA in San Pedro, California. After experimenting in various martial arts including Judo, Aikido, and Shotokan Karate, Shifu Sal began studying Tae Kwon Do with Sensei Ruben Gonzalez. Upon receiving a 1st Degree Black Belt in Tae Kwon Do and Tang Soo Do on January 8th 1999, he began studying Traditional Shaolin Kung Fu under Sifu Manuel Marquez. During a period of 6 years, he studied with numerous Northern Shaolin Kung Fu Sifu's and Wushu Coaches around L.A. and was titled Grand National Champion in 2002 after defeating many competitors in numerous divisions at the Los Angeles Convention Center.
In 2004, Shifu Sal Redner traveled across the globe to the birthplace of all Martial Arts to study Wushu in Beijing and Shaolin Kung Fu in Deng Feng, China near the Shaolin Temple. During repeated pilgrimages to the Shaolin Temple, Shifu Sal has developed friendships with various Shaolin Monks. In addition, he began studying under one of China's most knowledgeable teachers in Traditional Shaolin Kung Fu known as Shifu Hu Zheng Sheng of the Deng Feng Traditional Shaolin Kung Fu Institute.
After graduating from the university of California Berkeley, Sifu Sal returned back to Los Angeles where he established the headquarters of Wushu Shaolin Kung Fu. On January 1st, 2009 Wushu Shaolin Kung Fu Headquarters was officially established with a Grand Opening ceremony. It was a spectacular event in which numerous Shaolin Monks From China attended. Today, Wushu Shaolin continues to thrive. Wushu Shaolin Kung Fu is located in Hawthorne, California on the corner of Crenshaw Blvd and Rosecrans Ave.
Shifu Sal is part of Wushu Shaolin Entertainment which offers professional Lion Dance, Dragon Dance, and Shaolin Kung Fu performances. The company serves as a talent agency gathering the leading Kung Fu performers to provide clients with the most professional demonstration troupe in the world. Our team of performers includes Shaolin Temple Kung Fu Monks, Black Belt Martial Artists, and industry standard Lion and Dragon Dance performers.
Shifu Sal Redner is a Fight Consultant for the Black Salt the Movie Short.
The Shaolin Warriors are renowned for their martial arts prowess. On behalf of the tourism bureau of Qatar and Wushu Shaolin Entertainment, a unique live showcase entitled Shaolin Warriors was presented to the Arabic people of Doha Qatar. The team was assembled in Los Angeles, California featuring Shifu Liang Yi, Shane Yan, Alvin J Hsing, Zhenlong Yu and Shifu Sal Redner. The performance was an awe-inspiring experience for all of the Arabic people to see Chinese Martial Arts for the first time in their lives.