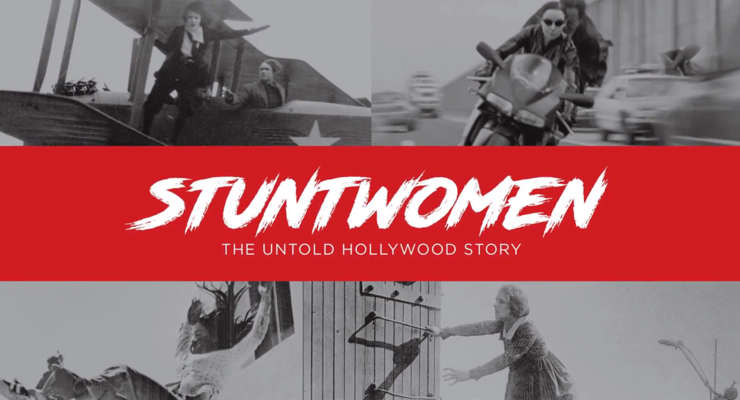 Stuntwomen: The Untold Hollywood Story (2018) is an action-documentary about the evolution of stunt women from The Perils of Pauline (1914) and beyond. It is taken from the book by Mollie Gregory and Nell Scovel wrote the commentary for the documentary. The film is narrated by Michelle Rodriguez and enjoys a cast of some of the best in the business including:
Michelle Jubilee Gonzalez
Michelle Rodriguez
Zoë Bell
Paul Feig
Amy Johnston
Paul Verhoeven
RZA
Anne Fletcher
Jessie Graff
Heidi Moneymaker
Albert S. Ruddy
Ben Mankiewicz
Jennifer Caputo
Tammie Baird
Philip Tan
Katelyn Brooke
Renae Moneymaker
Alyma Dorsey
Kiriana Stanton
Jeannie Epper
Cheryl Lewis
Debbie Evans
Elisabeth P. Carpenter
Paul Anthony Scott
Hannah Betts
Andy Armstrong
Kelly Róisín
Brenda Lorena Garcia
Angela Meryl
Li Jing
Marissa Labog
Melissa Tracy
Donna Evans
Donna Keegan
Vaia Zaganas
Cord Newman
Rick Seaman
Thekla Hutyra
Julie Ann Johnson
Keisha Tucker
Joe Witherell
LaFaye Baker
Lane Leavitt
Hunter Paris
Jadie David
About Stuntwomen: The Untold Hollywood Story Book
They put their lives on the line, breaking through windows, jumping off buildings, running through fires, hanging from planes, crashing cars. And they do it in bikinis, tight pants, shorts, and gowns! They're stuntwomen in the movies and on TV, and no one's written a book about them. Until now.
"When I see what they do," one woman, a producer, told me, "they make me feel women can do anything." Role models in every field are crucial to girls of 10 or women of 25 or even 55. Stuntwomen may not think of themselves as role models, but they can teach us a lot. Determined and skilled, the women in this book came from behind, climbed steep physical and social obstacles, and they never gave up. Understanding their special abilities expands our own possibilities. They are superb athletes who are doing what they love best. Their work is at the heart of what makes a film dramatic.
We have been telling stories since we lived in caves and our appetite for entertainment is as constant as our need for food. Stunts give movies and television 'an essential realism,' as Kevin Brownlow wrote. They make the action of the story attractive and thrilling. Without stunts, the movies… just wouldn't be the movies. American films go all over the world and when they show audiences in Baltimore or Beirut the athletic feats of stuntwomen, they give other women ideas—competency, independence, endurance.
Ninety-five percent of women's stunt work deals with feats and behavior not usually associated with women: brawls, car and bike crashes, high falls, explosions. Stunts appear spontaneous but they are not improvised. They are planned and designed like complex dances of action and conflict. From The Perils of Pauline to Spider-Man 3, the unexpected can always happen, and the line between a make-believe threat and danger is very thin, but stuntwomen thrive on it. Collectively, from silent movies to today's blockbusters, stunt women have risked injury, even death, fought sex and race discrimination, unequal pay, blackballing, and harassment, but here they are, joyfully describing the hard times and the best of times. Traditionally, stunt performers kept out of the stars' limelight, stayed in shadows. A few stuntwomen have a kind of glamour for their amazing acts or when they double big stars in big movies.
Do they live in luxury? Are they famous? No. They are the working class women of Hollywood. They are black and white, young and old, daughters, mothers, sisters, even grandmothers. They're like the neighbors down the street. They car pool and bake cookies. Most of all, they are the world's action heroines, and they sure have some stories to tell.