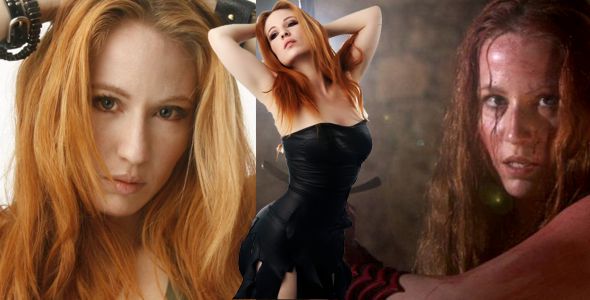 At first glance it is her striking good looks and formidable martial arts skills that makes Tara Cardinal a perfect choice for a role in 'The Martial Arts Kid' – which is headlined by martial arts/action-movie legends Cynthia Rothrock and Don Wilson. On further reflection, though, she is perfect for another reason.
Tara Cardinal, you see, has a passionate concern for kids. She has both funny and grim stories in regard to the motivation for that.
Tara Cardinal is the daughter of a psychic and a musician and grew up on a small farm in Indiana. She was shuffled around constantly by her parents until she ended up in foster care.
Tara Cardinal has used her harsh upbringing as an impetus to become a dedicated humanitarian and staunch advocate for children's rights from a young age.
At 12 years old, she co-founded a peer counseling organization dedicated to assisting children suffering from sexual abuse, dubbed C.L.U.B. (Children Living Under Blindness). Tara Cardinal has toured middle schools in both America and Canada educating children on their rights and resources since the age of 15.
"Yes.I co-founded a peer counseling organization for abused children when I was 12", Tara Cardinal says. "As I got older I started speaking at middle schools, then high schools about abuse, alcoholism and coping with parents who aren't very good at their jobs."
Cardinal left her own parents behind and moved out on her own at age 16 and worked three jobs in order to initially support herself.
At 19, misdiagnosed with cancer and only holding a seventh-grade education, Cardinal turned her life around. She went back to school.
It was at that age that she also had perhaps her most memorable experience – breaking into a house with screaming children and saving a child.
"One afternoon I was visiting a friend at her apartment complex when I heard a child screaming inside a nearby apartment", says Tara Cardinal. "I knocked loudly, but no one came to open the door. Concerned for the child I forced the door open and found a little girl holding a baseball bat surrounded by a group of older, angry children – all ready to fight!"
"I rushed in, grabbed the girl in one arm and the bat in the other", she continues. "I discovered quickly there were no adults around. After ascertaining no injuries, I took the girl to my friend's apartment and left a note for the parents so they would know where to find her. I stayed with the girl, Diana, until her parents returned."
Tara Cardinal went on to earn a Bachelor's degree in Psychology on a full scholarship. A natural leader, she was unanimously elected president of the theater club and held that position until she graduated.
It was then she knew the movie business was the only place for her. Still in school and working a full time corporate job, she was cast as the female lead in the Warner Brother's slasher flick "Delivery". Soon, other offers came in – and they have kept coming steadily.
The Martial Arts Kid is set to hit theaters in 2015.